On Saturday, 26 October, Liverpool Hope University welcomed a 400-strong gathering to mark the 50th anniversary of the Focolare Movement's arrival in Great Britain in 1963. The participants came from Liverpool, Leeds, Newcastle and Wales representing various christian denominations and faith beliefs.
The story goes back to Canon Bernard Pawley who had just returned from the Second Vatican Council, which he attended as an observer. He suggested to the Dean of the Anglican Cathedral in Liverpool that he invite the founder of the Focolare Movement, Chiara Lubich, to speak at the Cathedral to a group of Anglican clergy. He had already mentioned the idea to Paul VI during a private audience and gained papal approval for this event which took place in November 1965.
Reverend Kirsty Thorpe, Moderator of the United Reformed Church, pointed out to those present: "It's easy for us, 50 years later and living in such a different climate for inter church relations, to underestimate just how radically unusual this event was.  For a woman to address a gathering of men was relatively rare in those days, wherever it happened …  and in early 1960s, clergy were not known to sit and listen to a lay person as a main speaker …".
In her diary, on that November 17th, Chiara Lubich remarked on the poignancy of the name, Hope Street, which connects the Anglican Cathedral to the Catholic Cathedral (still under construction at that time) and expressed a heartfelt prayer that, with faith, the 'mountains' of lack of understanding between the churches might be moved (cf Mt 17:20).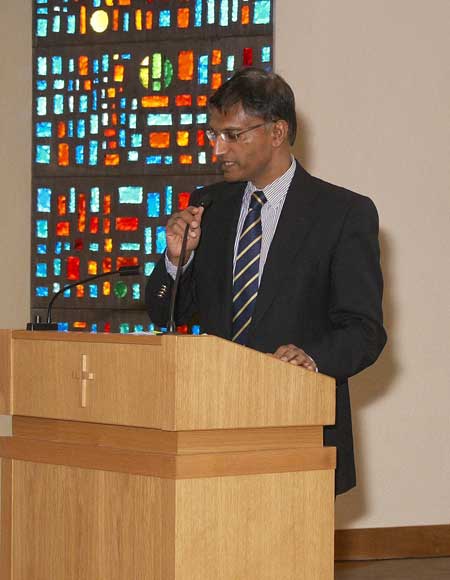 Today too, the word 'hope' continues to link Focolare very much to Liverpool.  In his keynote address to Saturday's gathering, Professor Gerard Pillay, Vice-Chancellor of Liverpool Hope University, reminded those present that the last honorary doctorate Chiara Lubich received, just two months before she died in March 2008,  was from Liverpool Hope in recognition for her work of dialogue in ecumenism, in interfaith and with contemporary culture.
He paid tribute to her work describing the Focolare as "not institutionally focused, not empire building but part of the spreading out goodness all over the world … Chiara Lubich, from the very  beginning was outward looking." He recalled the words of the Ecumenical Patriarch Bartholomew I of Constantinople who said: "There are some people whose life touches lives so universally that upon their passing away they remain an indelible inspiration of grace. One such life, a life worth living and well worth remembering is that of Chiara Lubich".
Professor Pillay went on to outline the strong bonds between the University and Focolare's charism saying: 'We at this university are drawn to a charism of seeking unity because of our ecumenical commitment (…). It is a peculiar Liverpool achievement for which we are all grateful (…). Chiara Lubich believed that dialogue (which for the university is rational discourse and living in peace) is the privileged way to promote the unity of the Church among religions and non religious people, without syncretism.  It is not just a muddling together of everything for something palatable.  It is the openness to all people while being faithful to one's own identity.  That is the deep wisdom of Chiara Lubich's vision."