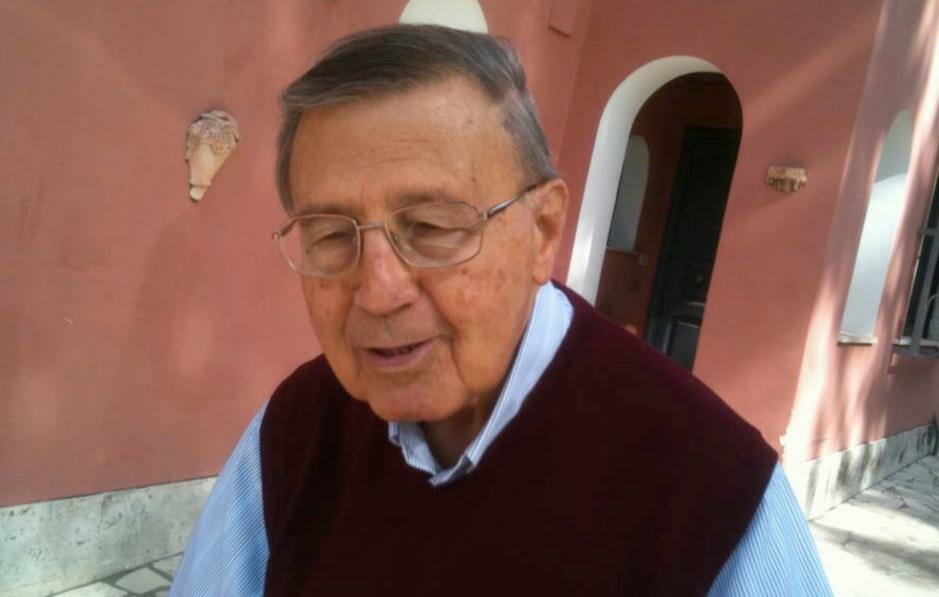 Fr Giò's name was given to him by Chiara Lubich in 1968. It refers to the passage in St John's Gospel where Jesus says to the beloved disciple: "Here is your mother" (19:27). That name and those words are a perfect summary of Father's Giò's life: attentive to his relationships with others, which were filled with depth and human warmth; his contemplative spirit that enabled him to always gather some new meaning in the Word of God; the way he lived the Mass and his filial relationship with the Blessed Mother.
Giuseppe Aruanno was born on September 8, 1924 in Ruvo di Puglia, Italy. He was the thirteenth child in a close-knit family. Entering seminary at an early age he was ordained to the priesthood in 1947 for the diocese of Molfetta. He quite soon became a very prominent figure who could be entrusted with important tasks such as that of canon penitentiary. Very attuned to the signs of the times, among other things, he began the John XXIII Social Centre for the formation of the laity during the post-war years.
In 1964, unable to refuse a friend, he reluctantly attended a meeting for priests of the Focolare Movement in Ala di Stura, Italy. He was impressed by the radicalism in living the Gospel that he found in them, and without anyone telling him anything, he approached the focolarino who was conducting the meeting and handed him all the money that was in his wallet. He had found his family.
Two years later he attended the newly-begun "Priests School" in Frascati, Italy. He was supposed to stay there for six months, but God manifested a new calling: to put his life at the service of this new reality in the Church. Without thinking twice, with the permission of his Bishop, he moved to the Centre of the Movement leaving all his possessions to the Diocese of Molfetta. Thanks to his generosity, the first men's and women's focolare houses were opened in that region.
The Priests Centre in Grottaferrata, Italy, had become his new operation base. There, together with other priests, Father Giò performed his 24-hour secretarial service, welcoming people, handling telephone calls, posting newsletters, keeping files, archives and creating a network of relationships that led to the opening of many 'priest focolares' in many several corners of the world.
In 1982 Chiara entrusted him with running the Priests School, which had moved from Frascati to Loppiano. Father Giò felt "inadequate," "nothing," "the last one for such a demanding assignment." Bishop Michael Mulvey from Texas thinks differently. He had accompanied Father Giò for two years at the School in Loppiano: "With Father Silvano Cola and the first priest focolarinos," Bishop Mulvey says, "Father Giò by his example prepared many diocesan priests to live the Marian priesthood;" that is, having Mary as their model who in humility and service offers Jesus to the world.
Trials were never lacking in those years, which he faced without giving up. "Carry on, Father Giò," Chiara wrote to him in 1999, and she invited him to look to Jesus on the cross who took upon himself every problem and human weakness in order to make us rise with Him. Then "life will overflow even more abundantly in and around you to the glory of God and the joy of Mary."
In his twenty years of service at the Priests School, Father Giò formed hundreds of priests and seminarians in the spirituality of the Focolare, many of whom have become bishops, vicar generals, formators in seminaries, etc.
In 2002, he returned to the Priests Centre at the Centre of the Movement where he continued to give of himself in a thousand ways. As he advanced in years Father Giò more and more discovered the art of loving in the small things, always creating a family atmosphere around him that had something of the Divine. In reality, he was living a period of new youthfulness, always more free, always more focused on the essential. As he felt the moment drawing near to meet Jesus, his constant prayer became: "Take everything from me, but leave me enough clarity of mind to be able to love You until the last moment." And so it happened. He died peacefully on the evening of December 31, 2014 surrounded by his confreres.