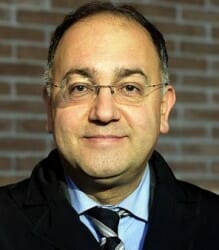 "For I consider that the sufferings of this present time are not worth comparing with the glory that is to be revealed to us. For the creation waits with eager longing for the revealing of the sons of God." [Letter of St Paul to the Romans, 8]
There are many wars being fought on our planet, in our cities, in our neighbourhoods. The weapons are many and varied, but all of them produce only dead or wounded people and destruction. The millennia pass, but a brother continues to repeat to his brother "we go to the fields."
But whenever we start building peace again after conflicts, Abel returns to life, Adam walks again with Elohim in the garden of the earth, we can look "eye to eye" at each other in full reciprocity and with absolute gratuitousness. Every time we build and rebuild peace, our action also extends to creation, nature, the earth. And when we stop being its "keepers" (guardians) and deny peace, then the earth, animals, plants are injured, killed, humiliated, dragged into the vortex of our violence innocently. We see this more and more clearly every day.
Peace, shalom, is a great biblical word. It is among the most common, severe and exacting ones. The first covenant of Elohim with men comes to restore an original peace-happiness that was denied, in order to regenerate the primordial shalom betrayed by Cain's sin and by those of his equally atrocious children. It took a first peacemaker, Noah, for the rainbow to shine again over the earth, to make the re-creation of the world and of men possible. Peacemakers are always builders of arks to save a failed humanity. They are righteous men who feel a call to leave their land to save the land of all. If the world still lives despite all the evil that we generate, it is because Noah has never stopped building arks. The prophets and the many "blessed ones" in history have kept the rainbow in the sky by never stopping to build peace on a ground that has always been bathed by the blood of brothers. Noah's hand and that of the boat builders of peace has until now been far stronger and more creative than the hands of Cain and the owners of warships.
Peacemakers are not promised the earth, or the vision of God, or mercy. They are promised only a name: "They shall be called sons of God." It is, however, an immense name, the biggest of all, and only used for them. Peacemakers are conciliators, those who reunite broken relationships, those who spend their lives solving the conflicts generated by others. They leave their own peaceful life behind in order to make other people's lives more peaceful. Peacemakers, the builders of this biblical shalom, become what they are by vocation only. It is not just a matter of generosity or altruism. One can dedicate one' own life for the shalom of others and of all only if a strong voice calls them to do so from deep inside. Building peace is never just a job, even when the construction and reconstruction of peace is part of our job. These voices, these calls within cannot be resisted: they are highly effective. And we cannot resist even when we do not know by whom and where the voice that calls us comes from: to be peacemakers it is enough to hear and respond to it (Read more).
by Luigino Bruni