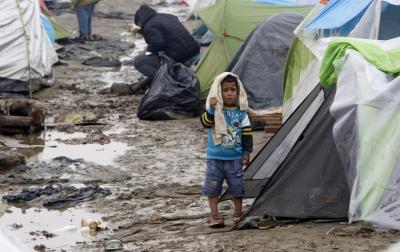 Thousands of refugees with hopes of crossing the Greek border live under tents in mud. The "mirage" is to reach Europe. Dolores Poletto is Croation. She works twice a week with Caritas Macedonia and lives in the focolare community in Skopje. She reports what she saw along the border. "I was at the refugee camp in Gevgelija, Macedonia with some colleagues from Caritas. It was an informal visit. On the other side of the border was a sea of people. We also crossed the border between Greece and Macedonia."
Closed Borders. The humanitarian crisis that refugees are enduring in Greece, Macedonia and Serbia is the result of the closing of border crossings along the Balkans migration route.
On March 9, Slovenian authorities closed the border. Croatia has also announced that it will close its border and Serbia immediately announced the same. According to the most recent data – but the numbers are estimates – there are now some 14 thousand refugees at the Macedonian border. In Greece there are more than 34 thousand.
Idomeni is like a funnel. The same thing is happening here that we have seen happening for months in Calais at the French border on the English Channel. The migrants arrive after having crossed through Greece and the Aegean on overloaded boats. "A multitude of people," Dolores says. "They arrive in very poor condition . . . We're on the border where before they crossed into Macedonia. People want to be as close as possible, so curtains have been put up behind the railway station."
Along with the mud, there is also the cold. "The daytime temperature is comfortable, rising as high as 18 degrees (C), but in the evening it drops to 2-3 degrees." Living conditions in the camp deteriorate daily. Along with the cold, food is scarce and hygienic conditions are appalling.  
Many stand in line waiting for food," Dolores says. "It's hard to describe what their psychological state is like under such conditions. Many say that they're from Syria. All of them would like to go to Germany, Austria . . . They have only one question for us: "When will the border open?" They're prepared to do anything, so long as they reach their goal . . . ready even to die. "You know, I just heard news of 3 refugees who starved to death trying to cross illegally between Macedonia and Greece. This is so sad."
Caritas has been on the scene since the beginning, along  with many other NGOs. "They're waiting, hoping to cross the border," Dolores explains. "That's why they don't want to move to more suitable camps. It's difficult to help them." The border police are here ensuring that no one crosses the border, in accordance with agreements made with Europe.
When faced with this "impasse . . . you feel completely helpless." Dolores has been deeply affected by this experience on the border. "We can stay with them on the Cross; I'm not able to forget those images. There are quite a few journalists there. I spoke with several of them and returned home to watch the news reports on TV. I said that if I had watched them without having visited that place, they would only have only been another series of daily news reports, but now after having touched it with my own hands, it feels more like a live wound on humanity's body."  
Source: SIR