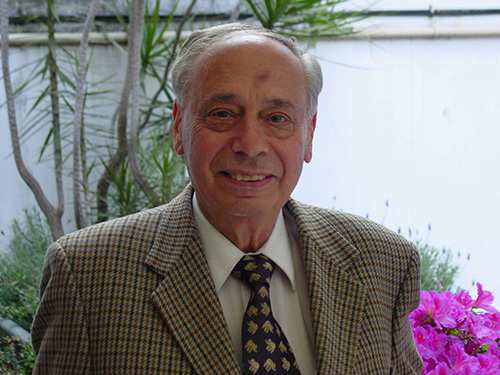 Born in Buenos Aires in 1932, Jorge lost his father soon and for many years was his mother's only support. He graduated in Medicine at a young age and, encouraged by Nobel Prize Winner Doctor Bernardo Houssay, accepted a scholarship to finish his doctorate at the University of Pisa in Italy.
He married Pina and travelled with her on a ship headed for Italy where their first daughter was born in 1960. As they were leaving church one Sunday they were overtaken by a torrential rainstorm and decided to buy one of the magazines that was on sale at the door of the church. They chose the Città Nuova magazine since it seemed best suited for covering their daughter's baby carriage. When they got home they placed the magazine on the floor and used it to clean their shoes. That afternoon they took a look at it and were very struck by the depth of its articles. They looked up the address of the local focolare and met with Fiore Ungaro who introduced them to the story of Focolare spirituality. "It was something that touched my very being," Jorge would later say.
When they returned to their country in 1961, Jorge contacted the nascent Movement in Argentina and attended the first Mariapolis that was held in Santa Maria of Catamarca, a small mountain village where he quickly became the official translator for the Italian focolarini who had not yet learned Spanish.
In 1966 he wrote to Chiara Lubich: "I'm young, just married and recently got to know the ideal of unity at a time when I was losing myself in material worries. My life began to change in so many ways: in the family, at work, in my Christian life. This ideal, love, has completely taken me and wants more of me. And I want to respond in a way that is total." Then he concludes: "I know that many times I'll find myself alone and unable to embrace my cross and that it will cost me much to be a focolarino, but if I've thrown myself into God's immense love, everything will serve only as another step forward."
As a Doctor of Medicine and Neuroscience researcher he added to his training at Oxford, Cambridge, Stockholm, Paris, Brussels and Munich. He held conferences in the United States, Canada, Mexico, Japan, France, Italy, the Academy of Sciences in Moscow and in the Vatican where he had personal meetings with John Paul II.
Careful to stay abreast of the "new" things in his profession for the good of others, he offered care to people from all walks of life and created good relationships with his students. This is confirmed by the splendid thank-you messages he received from ex-students who are now experts in the field of Medicine.
For years, Jorge worked for the Focolare's ecumenical and interreligious dialogue in Buenos Aires and was an extern of the Abba School.
He was the father of three children with whom he shared the Focolare spirituality along with his wife, Pina, whose death in 2013 caused him great pain because of their deep relationship.
At the age of 84 Jorge underwent delicate heart surgery, which he did not survive. Before entering surgery he had gathered the family, entrusting especially his daughters with the task of always maintaining unity and harmony in the family.
Chiara Lubich had given him a phrase from the Letter of St Paul to the Galatians, as a guide for his life: "Our glory is only in the cross of our Lord Jesus Christ" (Gal. 6:14), which Jorge committed himself to turning into life until the moment of his death.