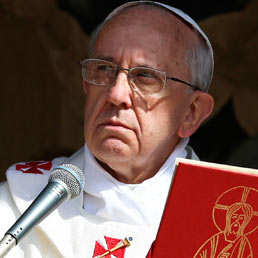 While the last century knew the devastation of two deadly World Wars, the threat of nuclear war and a great number of other conflicts, today, sadly, we find ourselves engaged in a horrifying world war fought piecemeal. […] wars in different countries and continents; terrorism, organized crime and unforeseen acts of violence; the abuses suffered by migrants and victims of human trafficking; and the devastation of the environment. […]Violence is not the cure for our broken world. Countering violence with violence leads at best to forced migrations and enormous suffering, because vast amounts of resources are diverted to military ends and away from the everyday needs of young people, families experiencing hardship, the elderly, the infirm and the great majority of people in our world. At worst, it can lead to the death, physical and spiritual, of many people, if not of all.
To be true followers of Jesus today also includes embracing his teaching about nonviolence. […] When Mother Teresa received the Nobel Peace Prize in 1979, she clearly stated her own message of active nonviolence: 'We in our family don't need bombs and guns, to destroy to bring peace – just get together, love one another… And we will be able to overcome all the evil that is in the world.' […] She bowed down before those who were spent, left to die on the side of the road, seeing in them their God-given dignity; she made her voice heard before the powers of this world, so that they might recognize their guilt for the crimes – the crimes! – of poverty they created. […]The decisive and consistent practice of nonviolence has produced impressive results. The achievements of Mahatma Gandhi and Khan Abdul Ghaffar Khan in the liberation of India, and of Dr Martin Luther King Jr in combating racial discrimination will never be forgotten. Women in particular are often leaders of nonviolence, as for example, was Leymah Gbowee and the thousands of Liberian women, who organized pray-ins and nonviolent protest that resulted in high-level peace talks to end the second civil war in Liberia.
Such efforts on behalf of the victims of injustice and violence are not the legacy of the Catholic Church alone, but are typical of many religious traditions, for which "compassion and nonviolence are essential elements pointing to the way of life.  I emphatically reaffirm that "no religion is terrorist. Violence profanes the name of God. Let us never tire of repeating: The name of God cannot be used to justify violence. Peace alone is holy. Peace alone is holy, not war! If violence has its source in the human heart, then it is fundamental that nonviolence be practised before all else within families. This is part of that joy of love which I described last March in my Exhortation Amoris Laetitia, in the wake of two years of reflection by the Church on marriage and the family. The family is the indispensable crucible in which spouses, parents and children, brothers and sisters, learn to communicate and to show generous concern for one another, and in which frictions and even conflicts have to be resolved not by force but by dialogue, respect, concern for the good of the other, mercy and forgiveness.
I plead for disarmament and for the prohibition and abolition of nuclear weapons: nuclear deterrence and the threat of mutual assured destruction are incapable of grounding such an ethics. I plead with equal urgency for an end to domestic violence and to the abuse of women and children. In 2017, may we dedicate ourselves prayerfully and actively to banishing violence from our hearts, words and deeds, and to becoming nonviolent people and to building nonviolent communities that care for our common home. Nothing is impossible if we turn to God in prayer. Everyone can be an artisan of peace"
Read the whole message.