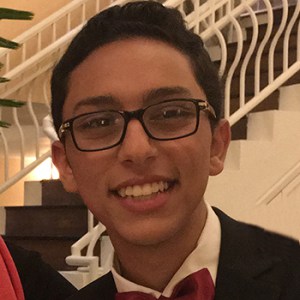 "May peace be with you," Omar Abou Baker exhorts, who has been a peace ambassador since 2016 when the World Forum of Young People for Peace, held in Egypt, named him and 47 other young people between the ages of 8 and 23 ambassadors of peace.
"I belong to the Heliopolis Choir of Cairo, which was begun for the sole purpose of spreading a culture of peace. Last year we organized a celebration for World Peace Day. This was the first time we presented ourselves to different embassies, explaining who we are and what our goal is. Through our shows we managed to convey to a vast audience that included ambassadors, actors, songs and famous people, our desire to build peace in our world."
During Ramadan, a sacred month for the Muslim world, when you fast from first light until sundown, the ambassadors organized dinners for 400 people in need. Everyone got to work using their own special talents: some got food, others presented songs, recitations, dances, games, face-painting for the children . . . But mostly we put our efforts into creating personal relationships.
Together with other organizations we were able to hold a marathon for athletes with disabilities. Their lives represent a constant challenge. Each ambassador was responsible for one aspect of the event. The choir prepared songs to celebrate their feats; others worked on presentations, taking pictures or running particular events and workshops. On the National Day of Orphans the children sang in the choir with us. It was a meaningful experience for them, because by expressing themselves through music, they developed a bit more self confidence."
"I believe that peace is a very high concept that is attainable only if people make every effort possible to render it real. Because peace isn't a word in an article or a lyric in a song. It's a common effort that should be based on a whole series of values to be lived out by each and every one of us: justice, tolerance, helping others . . . The only way to actually build a world of peace and brotherhood is to put love into action. If I'm here today," Omar concluded, "it's to testify both with my word and with my life, that peace is possible if it begins from me."