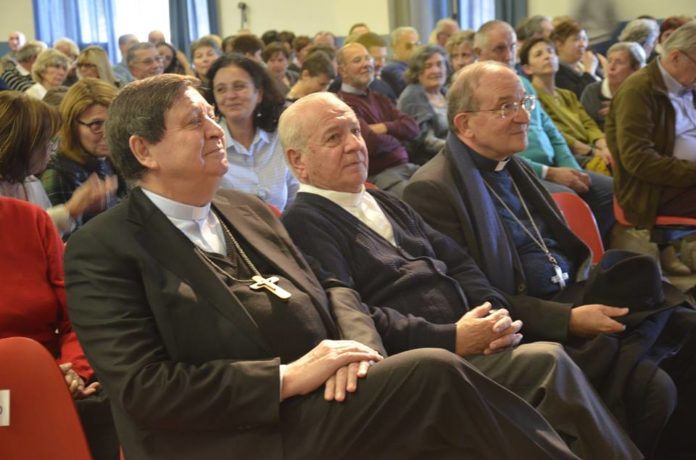 The picturesque setting with mountains all around was a welcoming scene that embraced all the people that went up the Val di Lanzo for the celebration of the 50th anniversary of the founding of the Parish Movement. The event was titled 50 Years of Passion for the Church and was held at the Maria Orsola Centre, which was filled to the brim with people from the area. Among them was Cardinal card. João Bráz de Aviz, Prefect of the Congregation for Institutes of Consecrated Life and Apostolic Life; along with Giuseppe Petrocchi, Archbishop of Aquila.
In her message, Focolare president, Maria Voce, mentioned how fifty years before, in Vallo, one of the first communities gathered with Archbishop Vincenzo Chiarle to live the Focolare's spirituality of communion and give "witness to an authentic lifestyle of the Gospel in the context of a parish, renewing spirits and structures." They were a model of a "living church," according to the definition of Archbishop Petrocchi, small in size, but great in spirit and in service. An example of holiness emerged from the community, the sixteen year-old Maria Orsola, now on her way to official recognition as a model of holiness.
From the intuition of Chiara Lubich going back to the late 1940s regarding the influence that the spirituality of unity would have on parish communities, to the historic meeting with Paul VI in 1967, which marks the official beginnings, the history of the Parish Movement was described by the first witnesses. The commitment continues. Vallo continues to be a popular destination for groups of young people and communities because of the spirituality of communion that is lived there.
Today Vallo welcomes many communities from all the regions of Italy and the world. Bruno and Luisa, one married couple from Genoa, Italy, share their testimony of active involvement in strict unity with their pastor. The experience of Luca was very touching. Thanks to the support of the young people from his parish, he was able to transform the unexpected side effects of a road accident, into a rediscovery of prayer and the precious value of life.
As Archbishop of Turin, Cesare Nosiglia commented in his open address, celebrating 50 years of life means to go back to the roots and keep moving on towards the new challenges.
Carla Cotignoli