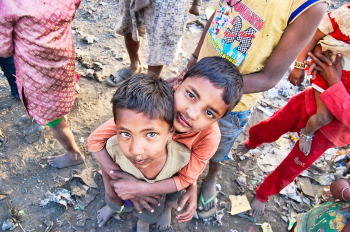 Great saints have always begun by moving toward God and toward the poor and underprivileged in an unconventional way. They left where they were from and went out towards the poor – not to give alms, but to share life, to take others' lives in, in such a way that their own radically changed.
The radical choice of God is really, in most cases in the history of salvation, a choice of the poor, a choice of the young in society, a choice of the most vulnerable. It is a choice that is not only about making the situation better, not just increase a bit of donations, or even living a small and temporary part of their lives and then go back to their own situation.
It always comes from metanoia – a deep change in mentality, sensibility and being. I belong to them, I am like them, exactly like them before God, and I am not any better than them.
No, I am at their level and, in fact, the Most Holy One came down to that level.
From a homily on January 11, 1993. Klaus Hemmerle, The Light Within all Things, Rome: Citta' Nuova, 1998, p. 340.