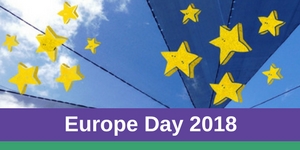 Europe is celebrating peace and unity on the 9th of May. This date recalls the historical "Schuman Declaration" with which, on 9 May 1950, the French minister of foreign affairs at that time proposed the creation of a first economic group, finalised in the gradual construction of a federation of European States, indispensable to the maintenance of peaceful relationships.
As a first step, Robert Schuman indicated the common management, for France and West Germany, of carbon and steel, but in the framework of an organisation to which other countries could have joined. Its thus set the grounds for a wider and more intensive integration, so much so that the Declaration is considered, symbolically, the birth date of the long process of peace and stability that gave rise to the European Union.
This feast is the occasion to bring the institutions closer to the citizens and the peoples among themselves, heightening awareness of the values of peace, integration and solidarity should be placed at the base of human coexistence.
"Together for Europe sees itself as an "artisan of fraternal relationships", the kind of relationships that it tries to build each day with the people of Europe."