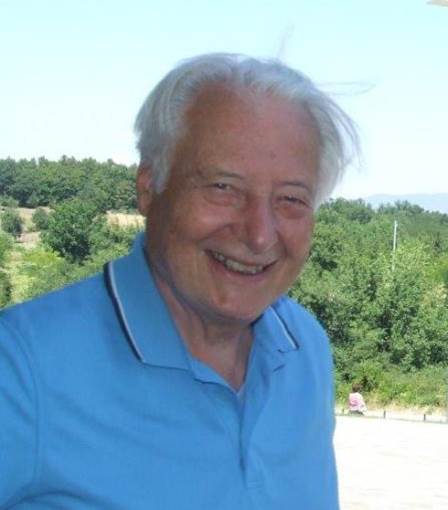 A native of Pisa (Italy), at the age of 8 he underwent the trauma of his father's death in a terrible air raid. At 19, while concluding his studies at the Institute of Accounting, a friend invited him to an event in the Dolomites in which young boys and girls, and families would participate in the intent of setting the Gospel at the fundaments of their own lives: that Mariapolis was one of the first to be held in the mountains of Trent. The new commandment of Jesus put into practice by those people, and the deep ideals of life that filled the air, was so overwhelming as to trigger in Umberto, the determination to become an active part of that novelty of life. He decided to move to Milan to enroll in an Economics course in the Catholic University and simultaneously to prepare to donate himself to God in the focolare, accompanied by Mary as a model of life and in close contact with the focolare men and women. He had his first professional experience in a bank in Milan.
He wrote: "Today, my first day of work, I saw what our vocation as focolarini means: being another Mary in the world." Later he was transferred to the focolare houses of Pescara, Paris, and Brussels. In each of these destinations, he continued to entrust himself to Mary so that she: "could live more and more in me, and that I may imprint in this piece of land, Mary's countenance and the Work she has entrusted to me." In 1965 he was called to the USA to initiate New City Press, the Focolare's publishing house. Thanks to his outstanding managerial skills, with very few means Umberto was able to publish 12 editions in the first 5 years.
In 1970 he returned to Italy to help in the construction of the town of Loppiano (Florence), an adventure to which he dedicated himself for 40 years. In this international "mariapolis" of the Focolare, there was no detail for which Umberto did not struggle, rejoice and suffer, giving his irreplaceable contribution as a focolarino, economist and entrepreneur: from the initial businesses created to give jobs to many who came to deepen their training, the first "youth festivals" which still continue today every 1 May, and amid the creations like the Industrial Hub, the church dedicated to Maria Theotokos, and the Sophia University Institute. The secret of Umberto was his deep love for Jesus Forsaken, whom he slowly discovered in increasingly new perspectives. He wrote: "I have understood strongly how the cross is the element of God which transforms a simple human thought into Wisdom. I understood the great difference between a good and intelligent person, and one who loves Jesus Forsaken. It's a leap in quality. Humanity needs people who love Him."
In 2010 he left for Canada where a new and unexpected phase was awaiting: a serious illness which would lead to his return in November 2017 to "his" Loppiano. It was the occasion for Umberto to identify himself even more with Mary, who now presented herself under the guise of the Desolate at the foot of the cross. He wrote about her: "I see Mary Desolate with new eyes. Her immense pain was filled with an immense Love: from the body of Jesus to that of his Mystical Body."
At the start of his spiritual journey, he had received from Chiara Lubich, a phrase of the Scripture which stood as a guide in his life: "I fought a good fight… I kept the faith" (2 Tim 4,7) and which he constantly tried to out in practice up to the last instant. On 21 April 2018, at 83 and surrounded by his nephews, nieces and his focolare, Umberto left this world, sucscitating around him an immense gratitude for his faith in God's love and his Marian love towards all.
Chiara Favotti