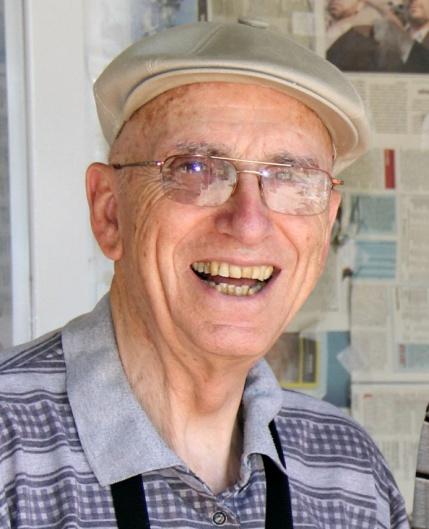 One day, when he was a child, Guglielmo was playing near his home. He saw an interesting object and went to pick it up. Suddenly a flash. It was an explosive device, a remnant from the war. This was the young Guglielmo's first encounter with suffering, and several painful operations were needed to restore the use of his fingers.
Guglielmo grew up in Genova in the north of Italy, with his parents and two sisters. They had been forced to leave their hometown of Reggio Emilia on account of his father's socialist ideas, opposed to the Fascist regime of that time.
Guglielmo was a good-natured boy with a lot of friends. One of them introduced him to the Focolare.  Here he found a Christianity which, as he described it, was "new to me, based on living the Gospel". The impact of this new life led him to decide to give his life to God as a Focolarino. It also gave a powerful witness to his younger sister Norma, who like him responded to the same call from God. Later on his older sister and their mother adhered to the spirituality of unity of the Focolare Movement. Even his father, who had always claimed to be agnostic, drew close to God before he died, supported by his beloved family.
In 1967, full of fervour for the apostolate, he travelled to Brazil and from there to Uruguay and various cities in Argentina. These were years of foundation for the Focolare Movement, and Guglielmo proved to be well suited to spreading the life of the Gospel in these environments. He was asked to contribute, alongside others, to the development of the Focolare town, "Mariapolis Lia", in the Province of Buenos Aires. There he stayed for the rest of his life, putting all his energy and talents to good and fruitful use. He was ordained to the priesthood in 1988.
For Guglielmo, Chiara Lubich chose a phrase which St Ignatius of Loyola directed to St Francis Xavier: "Go, enkindle and inflame all with Love".  Many are the testimonies of how he allowed the Gospel to influence his life. Focolarini with whom he lived in community recall how he always strove to verify together with them every decision he had to take, no matter how young or inexperienced they may have been.  Countless visitors to the Mariapolis Lia have their own stories to tell. Young and old alike were drawn to his spiritual youthfulness. His humility, kindness and love shone through to everyone. He was very sensitive to the needs of others and would silently, discreetly try to meet those needs. His ability to listen attentively to people, in conversation and in confession, was appreciated by many. He had a real gift to encourage profound sharing.
His special gifts, which continued to mature over the years, reflect something of his relationship with Mary. He wrote in 1991, "Each time I pray the rosary, at the fourth glorious mystery I declare that at the end of my life I would like to make a gift of my sanctity to her, to my mother. I renew my 'yes', so that she may accomplish the work she started when she brought me into contact with the spirituality of unity". In his writings, Guglielmo had expressed his profound love for Jesus Forsaken, "with whom", he declared, "I ardently desire to spend every moment of my day, because I have understood that He alone builds the Work of Mary". Such faithfulness remained to his later years. One day he confided with a smile, "I'm going through a time of darkness. I call to mind what Chiara suggested to do in moments like this: love your neighbour. So I start to do acts of love".
When he became ill, he was not caught unprepared. Already in 1980 he had written, "The thought that the years are passing by and we should be thinking about the life to come, has made me discover in altogether a new way how to live each present moment by saying 'For you, Jesus'. This conveys our present life into the Life beyond and helps us to live love better."
Suddenly on 9th May, at the age of 84, Guglielmo was called to the next life, leaving behind a chorus of appreciation for his luminous example.