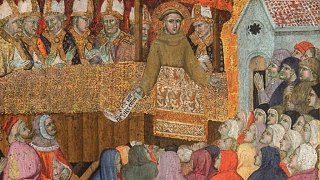 According to tradition, on the night of July 1216, St. Francis asked God for forgiveness of the sins of the penitent pilgrims visiting the "Portiuncula." On 2 August Pope Honorius III established the "Pardon of Assisi" in the Franciscan churches, an indulgence extended today to all the parish churches worldwide.
On 1 August there will be the celebration of the "Opening of the Days of Indulgences" (from 12 noon of 1 August up to midnight of 2 August). It will be followed by the traditional Evening Prayer with a procession with torches.
The youths of the 38th Franciscan March coming from all the regions of Italy and some foreign countries, shall cross the threshold of the "Portiuncula" after a journey on foot of more than a week, guided by the theme, "With a new name."
Lastly, the Basilica Square will be the location of five events/shows (Gloriosus Francisuc with Michele Placido, Concert of the Russian Symphonic Orchestra, On a journey with Mary, Pardon Concert of the Vatican Gendarmerie Band, and the ballet, The Two Paths).