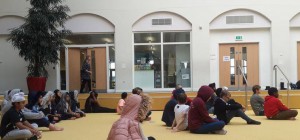 Coming together to deepen our understanding of "the golden rule" to treat others and you would have treat you, and using workshops to live it, made a very special day for each one.
We shared our cultures, talents, time and much more in four workshops: Dance, Music, Art and Singing.
The day was made special by the beautiful School which accommodated us and at our shared inter-faith "time out", we entered onto the "sacred space" in the Nishkam High School and committed ourselves to live so as to bring peace where we are.
At lunch time the Sikh mums brought food to share with everyone so as to live "LANGAR" as they do in the Gurdwara.
From playing the base guitar for the first time to learning dance moves that we would never have dreamt of and creating a collage based on the golden rule expressed by different faiths, we had a very special day full of fun and discovery.
We hope to continue to deepen our relationships and learn from each other through days like this in 2017.