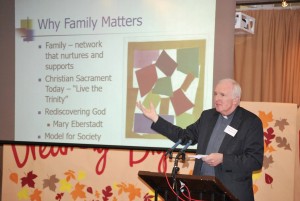 On Saturday the Focolare in Scotland was part of a New Movements Conference with the sub-title: "Christian Family Life in a Changing Society".
It was a great day and a step forward for us as members of the Focolare, for the movements who had organised the day together, including ourselves, and for all those who came – about 120 people in total with 23 movements and organisations represented.
The conference was hosted by Bishop John Keenan and the day was held in his Cathedral parish hall in Paisley.
A highlight of the event was the presence of Bishop Brendan Leahy – the Bishop of Limerick and a well known and very good friend of the Focolare.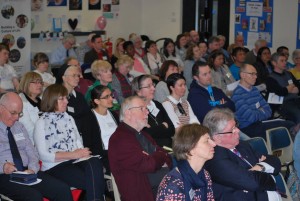 Bishop Brendan spoke inspiringly and accessibly about the gift of the family today. It was well received by everyone.
There were also a number of people from different groups: Neo-Catechumenal Way, Community of the Risen Christ, Schoenstatt, and Focolare who shared powerful experiences and testimonies.
Hopefully future years will see this adventure of working and being together as movements grow even more…..
By Eddie Duncan