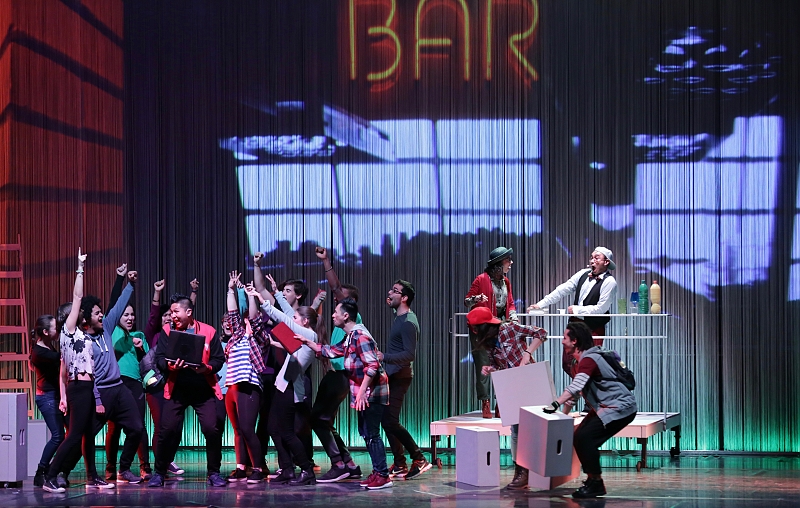 On stage is a triumph of diversity. This is how Campus: the Musical, which played March 18 at the Mandela Forum in Florence, Italy, can be described. The show is a unique genre, in which people of various levels of disability, mostly young people, gather around professionals that make up the international performing arts group Gen Rosso. The troupe has been around since 1966, when it began from an idea inspired by Chiara Lubich's charism.
The choice of venue could not be more perfect. The sports arena at the center of Florence, where there are public events, sports, concerts and debates, in 2004 was changed to the Nelson Mandela Forum to bring high-caliber cultural events to the community, as well as a sense of openness, exchange and the happy meeting of diversity of all kinds.
"The purpose of freedom is to create it for others," Mandela used to say. For those whom freedom means moving and singing to the rhythms and textures of African ethno, samba, jazz, rock, pop or rap, it may get taken for granted. But for those who have a more difficult daily routine in a wheelchair, or who find it difficult to navigate a sidewalk, or who live with the limits of a psychological disability, it can seem like a dream.
This is a dream that "Uniti senza barriere" (United without barriers), an association that works in the world of disability in that area, wanted to make reality, thanks to meeting Gen Rosso and collaborating with other associations and agencies that are active in the social sphere.
Campus is inspired by true events, taking advantage of the palette of colors and decibels that the band uses to give voice and soul to the peaceful weapon of dialogue (which was so dear to Mandela). It is set on a university campus, where the stories of nine teens of different nationalities cross, young people searching for their way, with a weighty past behind them and an unknown future ahead to create. The musical has a global current running through it, supported by a narrative that points to the heart of challenges today, thanks to its universal language and a sound that is definitely live.
The project has reached the stage after a long period of reflection on the key issues of our time: culture clashes, the struggle against terrorism of every kind, and migration. Rather than just respond, it proposes solutions that are tangible, such as the "Italia per" project (Italy for…), which the international group promotes with workshops and shows dedicated to specific problems.
At the Nelson Mandela Forum, after many hours of rehearsals, disabled youth and children, and even four small infants with their mothers, made their debut dancing and singing a dream of unity and fraternity. Proud to take on their roles, emotions in their voices and faces ran high as the professional artists took a step back to leave them the stage and the applause (from close to 1,000 attending).
Campus has certainly hit one of its marks: overturning traditional understandings of disability. It also shows what the true limits of our existence are: when we build up material and cultural barriers that divide us, or relate to someone disabled and think that we have something more to teach or show them.
"It always seems impossible until it's done," Mandela would have said.