In the face of "the environmental disaster that struck Peru (…) we believe in God's love, and pray together for the victims, entrusting those suffering from so many difficulties and discomfort".This was what Maria Voce, Focolare President, wrote to the community of the Movement in the South American country struck by violent storms and floods.
Some days before, the Pope had prayed during the Angelus, ensuring his support for the population.
"The phenomenon known as the 'coastal Niño', they wrote from Perù, "has produced a 10° rise in the usually cold waters of the Pacific. Combined with a mass of hot air coming from the Caribbean, it has caused a thickening of enormous masses of vapour that condensed over the Andes, in the central zone of Perù, provoking continual rains, that were also real outbursts of rain and violent storms. An enormous mass of water poured over the coastal cities. The figures today report hundreds of deaths and dispersed people, over 200 wounded, and almost 800,000 people who lost their homes or suffered damages. The Government was unprepared and was delayed in the first interventions, but is now in full action."
"But what is surprising is the fantastic reaction of the public and private institutions and especially the members of the community," they continued. There would be no end to the reports of real solidarity and charity outflowing from the heart of man in moments like this. In the meantime, not only relief aid was sent by the nearby countries:  Ecuador (in part struck by similar events in the south of the country), Colombia, Chile, Bolivia, Argentina, Paraguay, Brazil, Uruguay, and the USA; over a 100,000 dollars came from the Pope!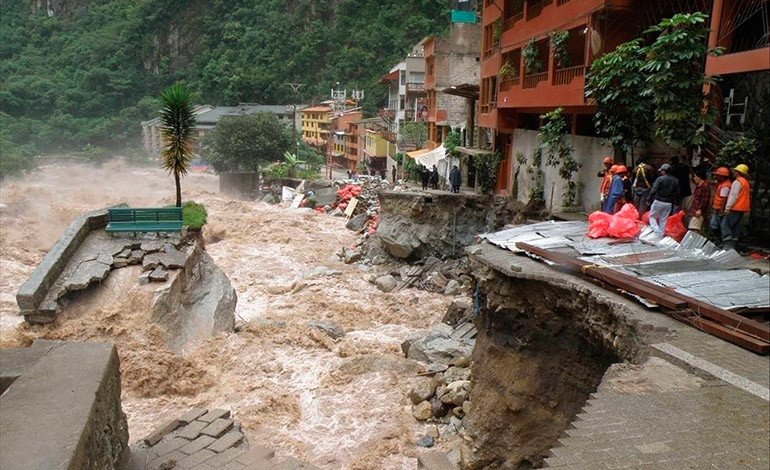 Town halls, supermarkets, parishes, institutions of various Christian churches and of other religions have created Collection Centres for basic essentials, nonperishable food, cleaning products, blankets, etc. Also the Focolare opened a Collection Centre in Lima.
"Some families of the community," they said, "were struck by the floods, especially to the north of the country. In particular, one of our very poor communities close to Lima, suffered intense rains for which they were not prepared, since for 60 years  it had not rained in that area. The nuns of a nearby community, who helped in our adoption project, say that many of our children are homeless, but are all alive…".
There is very little electricity throughout the country and water is lacking. A 70-year-old man had a stroke but there was no way of bringing him to the hospital about 50 km away…
The benevolence of the members is impressive and immediately generates reciprocity. We sent help to a family in Chulucanas, whose house roof and walls were damaged, but we found out that with other families of the parish and the Movement, they started to help others with greater needs."