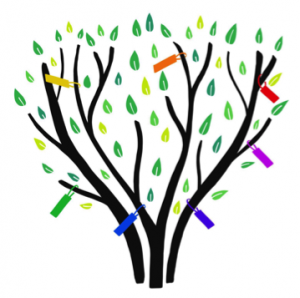 A small crowd gathered together despite the pouring rain and there was a tree of stylized branches on which many peace messages sprouted like leaves. This is just one of the more recent snapshots of an age-old friendship between the Focolare community of Scotland and the Muslims of the Ahl Al Bait Society, founded in 1991 with the aim of promoting cultural legacy and religious faith of the Muslim minority in the country, and helping it to integrate into its social context.
Together, the two communities have been promoting for some time now, moments of sharing, encounter and common prayer, where interreligious dialogue is proposed as a key element to face and heal the many divisions that are dangerously affecting the social weft, not only in Europe.
Last 19 September, umbrellas opened under a grey sky to give a colourful sign of this commitment. Among those attending the Wake for Peace and Hope were some civil and religious personages, among which were Lord Provost, representative of the city's Municipal Council, Metropolitan Archbishop Emeritus of Glasgow, Mario Conti, and some exponents of the Muslim Council of Scotland.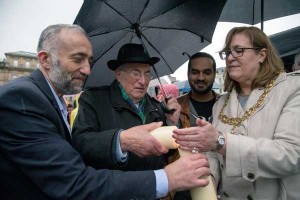 The organisers explained that this initiative was inspired by the appeal launched by Pope Francis for solidarity with Syrian people. Liz Taite of the Focolare Movement explained: "In a moment in which various circumstances are sowing division and conflicts, the Focolare Movement, together with people of different faiths, intends to publicly promote a message of peace. This event is the sign that God is at work and that peace is possible."
Azzam Mohammad, director of the Ahl Al Bait Society said: "Together we want to bring down the barriers, eliminate the fear and diffidence, and increase comprehension and mutual respect. We worked with sincerity and heartiness as a team, and it was a success. This is a step that marks the history of our common endeavours and will be an example for all the communities around us. Now we have started to plan for the next event."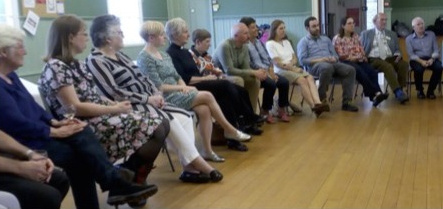 In August, Daniel, of Glasgow had participated in the Summer School Interfaith Engagement in Theory and Practice, a course/workshop dedicated to interreligious dialogue, and promoted for some years now by the Sophia University Insitute and the Risalat Institute of Qum (Iran) in Tonadico, Northern Italy. This year the participants came from Canada, Europe and the United States. "I think that my city can understand the values of multiculturalism and integration. When we are united and supportive, and you recognise your own values in those who, at first sight, seem to be different, we can face the daily battles in a different way. These encounters between different faiths and cultures are testimonies of how unity is possible even when we are different. This diversity strengthens us and reminds us to greet each other as brothers and sisters, welcoming each other with open arms and a smile. We all can become messengers of hope and peace and engines of change."