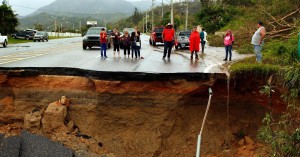 There is a Focolare community in Puerto Rico of about 150 people. Their last Mariapolis in June 2017 had about 130 participants, many of them young people. Communities are scattered all around the island, mostly in the San Juan metropolitan area, Caguas, and Patillas.
Patillas is a small, rural and very poor town in the south of the island with an emergent Focolare community. The Ideal arrived there a few years ago through the work of a diocesan priest, Fr. Patricio, who is now the pastor of the Catholic parish. The community is composed mostly of young people. There is a group of Gen and some families who bring ahead the life of the Movement, together with the two local coordinators, Santos and Sandra, and Fr. Patricio.
Hurricane Maria hit many of these people heavily but fortunately everyone survived. Some have lost their houses completely, and are now staying with relatives or friends.
In the immediate aftermath of the hurricane, the most immediate and pressing needs were food and drinking water, especially in Patillas. After an initial communion of goods, some volunteers from San Juan drove a small truck with 61 boxes of food and bottled water which they delivered to many families in need with the help of the Gen of Patillas. Each box contained enough food and water for 5-6 days for a family of four. The main collection hub was the parish centre. Some parishioners, struck by they were seeing, volunteered to help them unload and distribute the supplies.
An initial collection of money by New Humanity raised several thousand dollars. Many household belongings have been lost after the hurricane. Repairs and refurbishing for the damaged homes have been put on hold for the time being since they have some other more pressing needs.
Emmaus, the president of the Focolare Movement, also sent a bit of providence for this purpose as well as the Gen4 Centre in Rome. The community was extremely happy about this and really felt the solidarity and the unity of the Focolare family around the world.
More is needed, obviously, since secure power and water supplies may not be restored for a long time. In addition, many jobs are still suspended making it almost impossible for many families to make ends meet.
Donations can be sent to:
Puerto Rico Relief Fund
Account Name: The Focolare Trust
Account No. 23588942
Sort Code 60-05-34