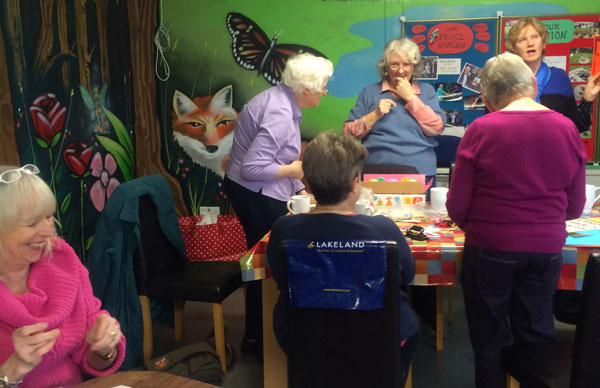 In 2011 when I was working as an Activity Co-ordinator in a care home, three ladies, who had been involved with that meeting, came and asked if I would like some volunteers? What a question! They were members of different churches. Between us we decided that "loneliness was a Spiritual need". I suggested that tea and cake was a non-threatening activity. I ensured the tea parties were given the bone china trios that I used for our activities. I retired in 2012 and the same team are successfully still going strong today. This pilot scheme soon blossomed.
I joined the newly formed Friends of Welwyn Care Homes (FWCH) committee in 2013. We now visit, six care homes in our area. Four of the six homes have teams with a volunteer leader; the fifth and sixth home are working each with a team leader and with several volunteers going in on a one to one basis.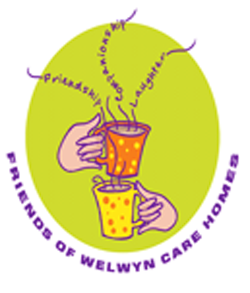 Our logo is FRIENDSHIP, COMPANIONSHIP, LAUGHTER. Each team has its own "activity pattern" – a tea party; chatting and sing-along; pub night. Sessions vary depending on how many volunteers are in each team – some monthly, one weekly, one fortnightly. As our volunteers are growing their talents are being shared with the residents – one plays her keyboard with her daughter playing the flute; one started playing his guitar with his 4-year-old son (now six and a half) confidently singing in Polish and English. The father and son are now joined by three other children and another adult. The father also visits a Polish resident with his son to spend time chatting and singing in Polish.
The group is expanding and always looking at new ideas and polishing what we do to see how we can help residents. The AGMs and socials enable volunteers to meet others for ideas and support. We are working hard at building links with the care homes by meeting annually with the managers and by linking with the activity staff to share knowledge, ideas and suggestions of what I have learnt in my 25 years working in care.
Our aim is to help meet some of the engagement needs of the residents by meeting more one to one personalised activities where possible, for example, Music for Life, life history work and help by bringing in people who have similar interests to residents even if this is only a one off.  One care home manager asked if I would be free to visit their home when the inspection team was in, to explain about what we were offering for their residents. We have started to share ideas of who and what we are with two other local towns who have people with their seeds of a Friends of …. Care Home idea – Friends of Hatfield Care Homes and Friends of Ware Care Homes.
Friends of Welwyn Care Homes was just a seed-sized idea in 2006, now almost in 2018 we are a fully functioning expanding reality; and in the future "watch this space".  Our tap root is firmly in the ground and the growth above the soil level is growing and blossoming.
By Helen Eames – Development Friends of Welwyn Care Homes
---
This article first appeared in the magazine of NAPA (National Activities Providers Association). Having been a member of N.A.P.A. since 2001 I have learnt a lot, had lots of training and met loads of interesting people. Now it is time for me to share. Friends of Welwyn Care Homes joined N.A.P.A. in 2016 and continues to be a member.