| | | |
| --- | --- | --- |
| 19 April 2018 | to | 22 April 2018 |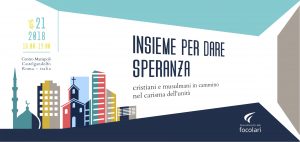 "What is impossible to thousands of isolated and divided individuals, seems to become possible for people who have made mutual love, mutual understanding and unity the essential motive of their life." (Chiara Lubich to a group of Muslims, December 7, 2002 in Madrid, Spain)
Promoted by the Focolare Movement's Centre for Interreligious Dialogue, an open gathering will be held on the afternoon of April 21, 2018, from 15:00 until 18:00 (GMT).
The event will take place within the wider context of a Conference with 350 Muslim and Christian participants from Great Britain and many different parts of the world including, Jordan, Lebanon, Macedonia, Poland, France, Belgium, Austria, Germany, Switzerland, Morocco, Tunisia, USA, Burkina Faso, the  Philippines.
The event will provide opportunities to reflect upon the experience of fraternity lived by Christians and Muslims together in the context of the spirituality of communion opened up by Chiara Lubich. The programme will include sessions of explanation, reflection, sharing of experiences from many different parts of the world and workshops. The conference wants to be a sign of hope in the complex and often painful situations that surround us today.
The event will take place at the Mariapolis Centre of Castelgandolfo, Italy.