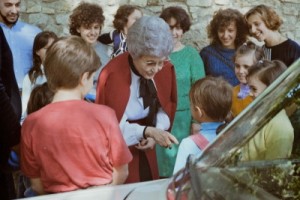 Chiara considered the family as " the seed of communion for humanity of the third millennium". She affirmed this in her message to Familyfest 1993, while hoping that "the values ingrained in the family – gratuitousness, spirit of service, reciprocity – are conveyed to the whole human family".
In these words of Chiara,one finds the meaning of initiatives and events that will take place in various countries during 2017. Families from the five continents are expected to participate in the international event that will be held in the small town of Loppiano, from 10-12 March 2017.
The anniversary of Lubich's passing away is an annual occasion for the Focolari communities worldwide to meet, celebrate, give witness and renew commitment. So, the year 2017 will also be enriched by a multitude of events happening from Singapore to Vilnius (Lithuania), from Sydney (Australia) to Houston (USA), from Manaus (Brazil) to Bujumbura (Burundi), that embrace the world like the stars in heaven and recall Chiara's legacy: "Be a family".
Live streaming of the event Saturday 11th March from 3pm to 5.30pm
Dossier: The New Families of the Focolare Movement celebrates its 50th anniversary
Dossier: Chiara Lubich to the families
Updated on February 8, 2017
SIF – Focolare Information Service