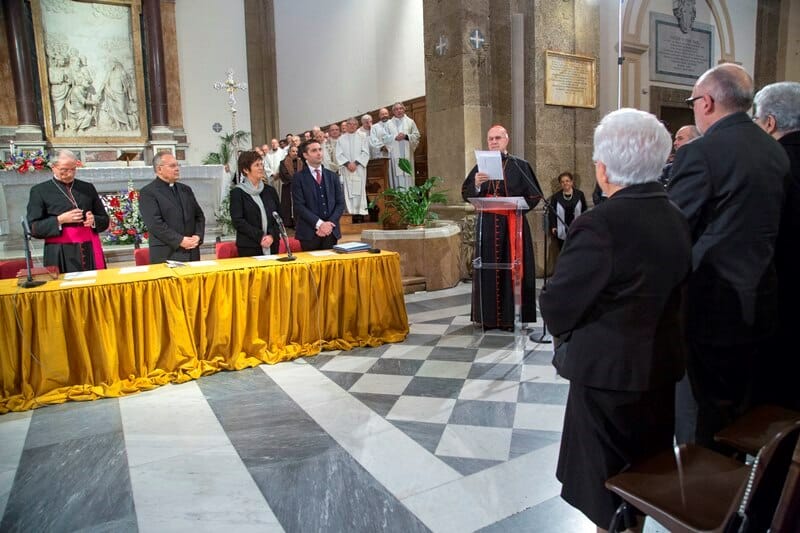 Amidst the festive atmosphere, there was also a solemn and prayerful tone. After the vespers prayer service and some songs, to the joyful surprise of all those present, the main celebrant announced the arrival of Pope Francis' message. The Papal letter carries the signature of the Secretary of State Cardinal Pietro Parolin, and is addressed to Msgr. Raffaello Martinelli, Bishop of Frascati, as person in charge to officially open the "Process on the life, virtue, fame of holiness and signs" of Chiara Lubich. In fact, the International Centre of the Focolare Movement is in the Diocese of Frascati, where Chiara lived most of her life until she passed away on 14 March 2008.
The Pope's message states, «On the occasion of the Opening of the Cause of Beatification and Canonization of Chiara Lubich, that is taking place at the Cathedral of Frascati, His Holiness Pope Francis sends his cordial greetings, in the hope that the luminous exemplary life of the Founder of the Focolare Movement may inspire in those who conserve her precious spiritual legacy to renew their faithful adherence to Christ and their generous service to Church unity. The Holy Father invokes abundant gifts of the divine Spirit on all those who are committed in the Postulation and exhorts you to make known to the people of God her life and works. She welcomed the invitation of the Lord and enkindled a new light for the Church on the journey towards unity. The Holy Father asks for prayers to support his universal ministry as successor of the Apostle Peter through the intercession of the Holy Virgin Mary, and grants an Apostolic Blessing to your Excellency, the Postulation, the entire Work of Mary and to all those who participate in this joyful event. From the Vatican, 27 January 2015.»
Maria Voce, on behalf of the Focolare Movement throughout the world who followed the event via internet, expressed everyone's gratitude: «First of all we would like to express our joy, emotion and surprise for this message of the Holy Father. We would like to thank him and assure him of our prayer, which he asked of us; as well as our commitment to continue spreading that "new light" that he indicated to us as Chiara's gift to the Church and humanity.»
The applause of those present manifested the immense joy and gratitude of the whole "people of the Focolare".