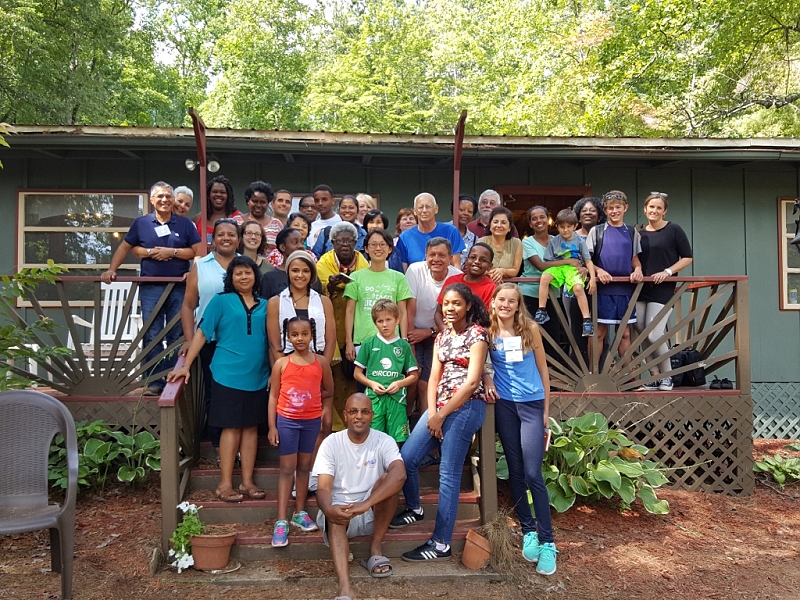 Atlanta, Georgia, is the ninth largest city in the U.S. The headquarters of Coca-Cola are here and it is also the birth place of Dr. Martin Luther King, Jr.  "I have a dream,"the leader of the Civil Rights Movement cried out in 1963, demanding equality for blacks and whites. His hope was that the American creed expressed in the 1776 Declaration of Independence would become true one day: "All men are created equal."
Since 1963 many positive steps have been taken, but significant challenges remain.  Celi Fuentes Montero, originally from Costa Rica, resident of Los Angeles for 20 years and who now lives in the Focolare house in Atlanta, confirmed this: "I used to hear that in the South of the U.S. there were incidents of racial discrimination, but I thought those were just rumors and exaggerations. Unfortunately, I have had to change my mind.  I have seen it with my own eyes."
Recently, throughout the United States, in various incidents of confrontation with the police, several unarmed young African-Americans have been shot and killed.  Protests in Baltimore and Ferguson were especially intense, sparking further episodes of violence.  The Black Lives Matter movement has gained momentum, denouncing the poverty and sufferings of the black communities, and violence by the police. Unfortunately, this past summer lone shooters in Dallas and Louisiana have shot and killed police officers—the victims were both black and white.
Tensions are palpable in Atlanta, too. African-Americans make up more than 50% of the population. The community of the Focolare, in which blacks are also strongly represented, is engaged in building networks of reconciliation and in repairing the social fabric from within. During the most intense moments of tension, Celi reflects, "Our African-American friends are afraid to go out, because they feel that their lives are in danger.  One friend shared that during the riots it took an act of courage to even go to the store.  She told us: 'Since I believe in a united world, I decided to go out to love those I would meet.'  At the supermarket this friend met a white woman who was presenting a product and she stopped there to listen to her. From how she listened, the white woman understood why she had stopped, and they ended up giving each other a hug.
In spite of the anti-discrimination laws in place since the Civil Rights movement, many still experience social and economic discrimination.  Celi reflects: "Some of my younger African-American friends feel that it is harder for them to get into college or to find a job than for their white peers."
"When I arrived in Georgia, I was looking for a job at the same time as a close friend who is black.We went to the office of an employment agency together, and from her resume it was clear that she was more qualified than me for a certain job.  I was told that I would be called very soon.  Instead, they advised my black friend to go back to school and study more. The discrimination was evident. I was shocked—the incident opened my eyes to what many people have to undergo every single day. Trying to share in her suffering, as I could, it was a moment to renew in a deeper way my commitment to try to build bridges of understanding in the midst of these tensions.
One opportunity to do so arises through the Focolare community's projects to work together with the African-American Muslim community in Atlanta.  "We work together, in modest projects that involve increasing numbers of people. For example, together we prepare and deliver food and blankets for the homeless of the city.  We also prepare backpacks, which are useful when they are required by law to move from certain parts of the city.
These actions may seem insignificant, but we hope they show a love that is concrete.  As a result of our work together, our Muslim friends have reflected: "Up to now we have had dialogue among us, but now we are brothers and sisters."
Within our Focolare community, we feel that among us we have come to a much deeper understanding and sense of support between people of different racial backgrounds.   For example, on the day when there was a shooting, we met together to reflect on how to live together a passage from the Bible: we shared our fears and told each other "I am here for you!"
"Hope is alive in my heart"—Celi concludes—"It is true that we are few, and we may feel powerless in front of big problems such as racism.  But we know that we can ask for God's help to light our path, so that we can find ever-more creative ways to bring unity where there is division."