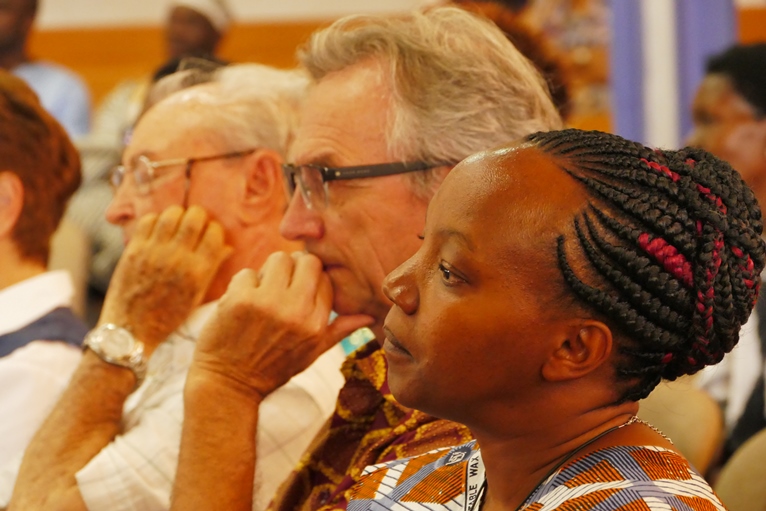 The four day event will be dedicated to the examination and study of both oral and written traditions concerning the topic of the family as it is understood and experienced by various ethnic groups in Africa. These will be compared to the Holy Scriptures, the Magisterium of the Catholic Church and experiences and reflections that emerge from the Spirituality of Unity. This will be the essential approach of the School of Inculturation with a relational dynamic at its base:  "You can't enter into the spirit of a brother [or sister] to understand them, comprehend them . . . if our [spirit] is rich with apprehension, judgment . . ." Chiara Lubich writes. "'Making yourself one' [Cor 9:23-16] means placing yourself in front of others in attitude of learning, because you really have to learn something."
How did it all begin? "It was certainly and ingenious Chiara Lubich had," explains Maria Magnolfi. Maria has been living in Africa between Kenya and South Africa for twenty years. She has a doctorate in Holy Scripture at the Pontifical Biblical Institute and has been with the School of Inculturation since it first began. "It all goes back to when Chiara went to Nairobi in May 1992. While there, she met the Apostolic Nuncio and listened to his concerns regarding the Church as it prepared for the first African Synod that would include the topic of inculturation. That's when she founded the School of Inculturation, inspired by her Spirituality of Unity for the study of African cultures and the results produced amongst them by the life of the Gospel. It has not always been easy to find successful paths for inculturation in ecclesial contexts. The recent letter received from Cardinal Arinze seemed quite significant to us. In it the Cardinal expressed his pleasure because of the work that has been done in these years, and offered his full encouragement that we continue in this process."

The topics that have been discussed in these years include: private property and work, the sense of the sacred, suffering and death, the reconciliation process, and communication. In 2015, the School focused on the concept of the human person in African cultures. This time we will move on to the intricacy of family relations, aware of the central role that is assigned to the family in African cultures.

"We will explore the concept of matrimony in the Tswana, Zulu, Kikuyo cultures, and in cultural groups from Burkina Faso, the Ivory Coast, Congo, Angola, Nigeria, Uganda, Burundi, Cameroon and Madagascar . . . Two guiding principles have been identified: the man-woman role and the institution of marriage as an alliance, and the transmission of values in the family, which is a topic that came into relief during the School on the concept of the human person. Which values? Sharing, hospitality, participation, respect for the elders who are sources of wisdom, willingness to share immediately when necessary."
What significance does the School of Inculturation have? What is its importance for the encounter amongst African cultures, and amongst these and extra-African cultures? Cameroon focolarino and lawyer, Raphael Takougang described it in this way: "In founding the School of Inculturation during her visit to Kenya in 1992, Chiara Lubich touched the soul of the African people. She showed that she understood Africa more than you might think? Her gesture was not a mere formality but the result of a deep love for the people and their cultures that history has not always acknowledged. For more than twenty years African experts, experts on Holy Scripture and of the charism of unity have been working to highlight the "seeds of the Word that are contained in the many different cultures of the continent: first, to shed light on them for Africans themselves so that they might know and appreciate one another better. Then, it is a helping the African people better known abroad, since up until now they have been little known for much beyond famine and war. The cultural patrimony that is gradually being constituted speaks of the presence of God in the daily life of these peoples and could be a significant contribution to dialogue among the peoples of the world that are more and more becoming a "global village".