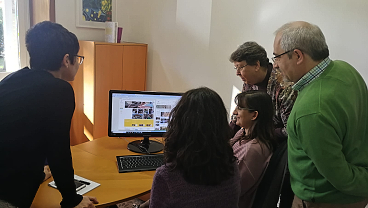 Innovation is on the horizon for focolare.org users. The Focolare website will soon appear in a restyled format and with additional navigational features. This is a project which the International Centre of the Focolare Movement in Rocca di Papa (Rome) has been developing over the last two years. The project aims at integrating the communication networks, carried out up till now by four separate publishing sectors (Website, Information Service, Mariapolis Newsletter, and Collegamento CH Worldwide Linkup), thus creating a unified "Communications Office".
Already operating since last February, this Office gathers news about the life of the Movement worldwide and transmits them through various media. Among its main objectives is to promote activities of the Focolare Movement, to communicate its life to a broader audience, and to contribute to a greater sharing of news among the various Focolare communities worldwide.
The development of new communication technologies and trends called for the restyling of the website which includes a new graphic layout, significantly more minimalist in structure, and an upgraded navigational logic. The use of new applications will also allow for greater integration with the social media, and will enable users to access content in different and personalized modes. The new structure will, in fact, be mobile-friendly and as such will take into account the use of smartphones and other mobile technology in our daily life. It will focus on content that is brief and varied, available in different formats (text messages, infographics, video clips, etc). The contents of the current site, however, will not be lost. The static content will be published as an e-Book and in the future the news articles will be accessible through searchable archives.
Also envisaged is a space, entitled "Mariapolis", dedicated to news regarding many aspects of the life of the Focolare Movement. It bears the same name given to the traditional summer gatherings of the Focolare held around the world. The current print edition of the journal "Mariapolis" will be discontinued after December 2018. The digital version aims to be a virtual "community" open to anyone who wants to visit. A system of notifications will allow the users to choose when, which themes and channels, and the preferred device (PC, tablet or smartphone) they would like to receive the information on. Every two months, a "Mariapolis" newsletter in pdf format will deliver a summary of the main highlights.
Happy surfing!
Joachim Schwind