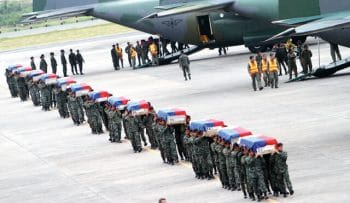 «The country is undergoing a very difficult period. In fact a police contingent sent to arrest some terrorist suspects, was attacked by the fighters of the Moro Islamic Liberation Front and 44 policemen were killed. The Parliament was just deliberating on the new peace treaty between the government and Muslims of Mindanao, with extensive grants in many fields. However, these were blocked and yesterday a video network showed the video of a wounded policeman who was repeatedly beaten to death by a militant of the Front. The indignation of the people was unimaginable!» wrote Carlo and Ding from Manila.
Oscar works instead in the government's Communications Office which therefore had to report on the event. It was not an easy task for one like him who is daily committed to living the spirituality of unity with everyone. «In my job – he wrote– I have to oversee all that happens in the Social Media. This morning I saw the video of our SAF people (policemen) killed by the Muslim rebels. I was very shocked on seeing a policeman on the ground, wounded but still alive, being hit twice on the head and another gutted out with a sickle in his chest… It was terrible, almost surreal, and I couldn't breathe. The video also showed the rebels gather the arms and personal effects of the policemen and then continued to shoot. It was so hard to think of peace while I was watching those images. I wanted to react, do something. I was almost in tears.
Then, watching the sessions of Parliament regarding the event. Some tried to blame a general for his imprecise instruction, and others accused other officers for lack of coordination. Once again I thought, how can we talk of peace?
The video on the internet has already been viewed by at least four million people. Part of my work consists in seeing the possible scenarios of a way out. So I ask myself what could be the worst scenario, and I felt fear. I imagine that after seeing those images, many could be overcome by anger and seek revenge. They could see in every Muslim a possible aggressor and turn against him. "And what if a civil revolt is triggered?" I wondered.
In the office, as can be imagined, my colleagues were highly emotive. I tried to listen to what God was saying to me in my heart: "More than ever we have to speak of peace. If those among us who have a better view of the situation feel these sentiments of revenge, how will the more emotive and less informed people react?"
One of my colleagues suddenly said: "Peace is unpronounceable at this moment. We have to focus on the unity of all the Filipinos, beyond every religious creed. And another said "What happened was an act of violent men who cannot be identified with the entire Muslim community." Slowly, the anger began to die down. We also remembered what a Mindanao deputy had said: "We are easily angered and influenced by our emotions, because we have not seen with our own eyes the effects a war at our doorstep would have. War is not the answer." I was pleasantly surprised and left the meeting with a sort of peace inside.
In these times, more than anything else, I think we have to work together to bring the ideal of unity to as many people as possible. The menace of war is real. The menace of our compatriots who are angry with our Muslim brothers is real. But the Gospel shows us the path of dialogue and peace. Tomorrow will be a new day for me, another day of listening to many conversations online. I will have the chance to build relationships based on trust and peace. »