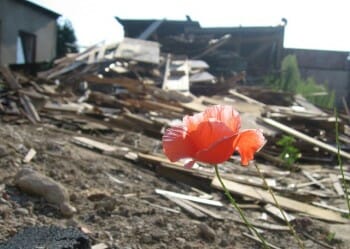 "Jean Paul is in his last year at the Faculty of Engineering and has known the spirituality of unity for several years. Burundi is going through a difficult political situation, because of the upcoming election. The political impasse has provoked many controversies that give rise to clashes and protests. Some people have lost their lives. It was in this context of great instability and suffering that Jean Paul and a friend, returning home on foot because there was no public transport, found themselves in front of a new and unexpected countenance of Jesus forsaken." The one reporting is Marcellus, along with the entire Focolare community of Burundi and Rwanda.
"It was the summer of May 2cnd when the two young men were assaulted by a group of wrongdoers. Jean Paul and his friend were brutally beaten to the point of unconsciousness. Helped by several police officers who found them thrown into a manhole, they were rushed to hospital. The friend had light injuries but Jean Paul was in serious condition: a fractured backbone and paralysis of the lower limbs. In spite of his serious state Jean Paul was always smiling and hoping to for a recovery. He entrusted himself to God and Chiara Lubich. "The fact that I'm still alive is already a miracle of hers," he said.
In a short time news of what had happened to Jean Paul reached the community which, besides praying for him, began to look for the money to hire an ambulance that would return him to Rwanda, where he would receive adequate care. On May 12th he left for Kigali, Rwanda, accompanied by a nurse and Séverin, a young man from his Gen group.
The chain of love and prayer widened, involving the Rwandan and worldwide Focolare family, especially the Gen. Jean Paul and Séverin gave a strong witness of mutual love in Kigali, Rwanda.
In hospital the people were astonished that the visits to this boy were more numerous than to all the other patients. They were also amazed that by the fact that Jean Paul and Séverin were not brothers, from the same village or ethnicity. The boys explained to everyone that the engine behind their action was something else: the spirituality of unity based on the mutual love that Jesus asks of us.
After a few medical examinations, Jean Paul was operated on the back and chest, on June 10th in Roi Fayçal Hospital. The prices at the hospital were very high, but God intervened with Providence that was never lacking. Jean Paul, who never grew discourage, considers this experience a true miracle.  
The surgery went well and this was encouraging to everyone. Jean Paul was transferred to another facility where he began physical therapy, and close monitoring by his physician and the team that performed the surgery. His condition is showing incredible improvement. He is beginning to feel hungry, physiological needs, pain and sensitivity in his feet. He is able to get out of bed and move around the hospital in a wheel chair. He continues to say that if it weren't for this extended family he wouldn't be alive.
Jean Paul is very grateful to the Focolare community in Rwanda, to the Gen around the world, to the international Gen Centres, and to all those who have sent financial support and prayers. All our hearts overflow with gratitude to God for having given us the possibility of having this powerful experience that has aroused attention, communion, authentic love among His children and a powerful witness of the love that conquers all."