"Pope Francis had a three-day visit in Uganda to commemorate the anniversary of the Ugandan martyrs. He arrived on Friday 27th November and was received by the President of the Republic of Uganda, His Excellency Yoweri Kaguta Museveni, and by a delegation of religious leaders of different faiths led by the Archbishop of Kampala Archdiocese, Dr Cyprian Kizito Lwanga, and by the Anglican Archbishop, the Most Rev. Standley Ntagali. The Pope then headed towards the Munyonyo Catholic Shrine where the first four Christian martyrs of this country were killed in 1886," recounts Simon who works in the marketing division of New Vision publishing house. He was able to follow the Pope on his itinerary.
Namugogo was next on the list. There, the Pope first visited the Protestant shrine where he was met by His Grace the Most Rev. Stanley Ntagali, and he then proceeded to the Catholic Shrine about half a kilometre away. "The ecstatic crowd waiting along the roadside chanted songs and hymns to his Holiness. There were ululations, flag-waving and blowing of horns! Some women had tears of joy."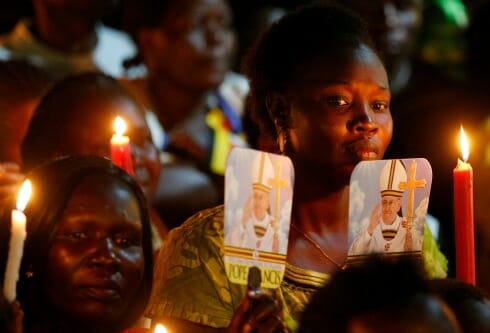 In his sermon, the Pope, "recognized the Anglican Martyrs who gave their life's to God's work and the Catholic Martyrs, whose deaths for Christ testify to the ecumenism of blood. All these witnesses nurtured the gift of the Holy Spirit in their lives and freely gave testimony of their faith in Jesus Christ, even at the cost of their lives, many at such a young age," commented Simon.
"The Ugandan Martyrs are the first martyrs of contemporary Africa who give a witness, as lay people, of a simple faith that is very powerful," Fr Lombardi, Vatican spokesperson, explains. The Pope's draws his inspiration from them in his address to the young people when he challenges them to "transform what is negative into positive in their lives", "hatred into love", "war into peace". Among the impressions gathered by Simon was that of a young person called Alinda: "With Jesus we can tear down any obstacle that might stand between us and this will transform our lives. We should not be afraid to ask for help and prayers."