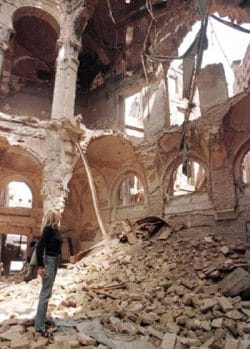 "I come from Sarajevo, Bosnia and Erzegovina, where for centuries, Bosnian Muslims, Croatian Catholics, Orthodox Serbs, Jews, Romani ethnic groups and others have lived alongside one another. The war of the 1990s that wanted to convince us that it is impossible to live together, only wrought thousands of victims, a million refugees, and devastation of cities, religious buildings and historical monuments.
In our condominium there were Croatians, Serbs, and Bosnian Muslims, but we shared everything we had with one another, up to the last cigarette, the little oil, flour, coffee and also the pain of death. My husband who was working as an amateur radio technician in the State institutions, had installed a radio station to connect the people who, for months, due to the interruption of telephone lines, knew nothing about their loved ones.
When the conflict ended, I started to get involved in politics, in the Social Democratic Party and became a candidate for the post of municipal councilor. The consequences of the war were terrible. In that period, a mayor from Sarayevo received an invitation to participate in the meeting "Together for Europe" in Stuttgart, and delegated me since he couldn't go. It was then that I was introduced to the  Focolare Movement, the people who live to bring unity to humanity. You may well imagine what this meant for me, coming from a war experience. On returning home I felt a great urge to live and fight to diffuse the ideals I had just met. Now, after 20 years, in our city we are still mourning our dead, and rebuilding what was destroyed, but we are also building bridges between people. We do this together, without hatred.
And precisely in these days Sarajevo is celebrating the 20th anniversary of the end of the siege of the city, which lasted 1,425 days during which 12,000 civilians were killed, out of which 1,500 were children. The city's wounds have now healed and it has regained its long lost spirit. The bells ring and prayer arising from the minarets of the mosques echo in the squares.
Since I am an agnostic, I found myself involved in the dialogue started by Chiara Lubich with people who have no religious beliefs. I try to weave this network of communion and mutual comprehension in my city, with the Muslim cities nearby, and with the Catholics – for example, during the visit of Pope Francis, and with the people of various beliefs. Today in Sarajevo there is a group of young people, also of different faiths and cultures, who are also trying to diffuse the culture of dialogue.
For some years now, we have been carrying out various activities, and we thought of founding an association to transmit universal values to the young generations. In 2014 during the celebrations of the 100th anniversary of WWI, the international group, Gen Rosso, held some workshops for the youth of various European countries.  Last year we cooperated with five other associations of the Region with objectives similar to ours: seven days of seminars and workshops on the theme of ethnic minorities, setting out concrete projects. This year we plan to work with the unemployed youth.
Our wish is that Sarajevo, after the tragedy of the last years, will become a city that is able to tell positive stories, where the people build, step by step a reconciled humanity, whether or not they profess a faith, or are of various nationalities."
Personal testimony shared at the conference entitled "OnCity: Networks of light to inhabit the planet", Castel Gandolfo, Rome, 1-3 April 2016.