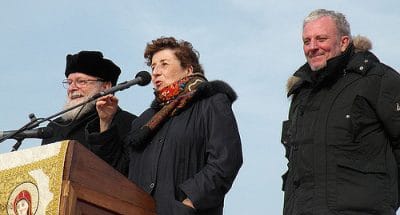 «What a great support for the Way Carmen has been. What a strong woman! I have never met any other person like her». With these words Kiko Argüello announced the death of Carmen Hernández in a letter to all the wayfarers, those who have adhered to the Neocatechumenal spirit, He furthermore wrote that Carmen represented a «marvellous event» and reflected the ideal «woman, her great genius, her charism, and her love for the Pope, and above all, the Church.»
Together with Kiko Argüello and Fr. Mario Pezzi, Carmen Hernández was a leader of the Way worldwide. The funeral will be held on 21 July, in the Madrid Cathedral, to be presided by Archbishop Carlos Osoro Sierra. Over 30,000 neocatechumenal communities in 120 countries will commemorate her, in the presence of Bishops and Cardinals who are close to the Neocatechumenal movement.
Born in Olvega, Spain, Carmen lived a long life, always in communion with the Spirit which had led her, after her studies in chemistry, to discover the missionary vocation she had felt in her youth.. Then came the stint in a missionary institute, studies on the liturgy within the context of the profound council renewal, and a two-year experience in the Holy Land. Lastly, in 1964 her encounter with Kiko amid the slums of Palomeras Altas, at the outskirts of Madrid: it was there that she felt the evangelical spirit was leading her towards a new form of commitment with the Christian community that was starting amongst the poor. The presence of Carmen offered a solid theological and liturgical basis to Kiko's forceful catechesis, and their action became a real post-baptismal formation. She played a fundamental role in the drafting of the Statutes of the Way, which was approved by the Holy See in 2011. In  2015 she received the Honoris Causa Doctorate in Sacred Theology from the  Catholic University of America in Washington, as an acknowledgement of her great contribution to Christian formation throughout the world.
«You have received a great charism, for the baptismal renewal of life,» she had said to Pope Francis in her speech before the followers of the Neocatechumenal Way last 18 March, the last time she appeared in public. But the Holy Father spoke to her personally on the phone last 1 July during a private audience granted to Kiko Argüello and Fr. Mario Pezzi.
The Focolare Movement joins the prayers and thanksgiving, in keeping alive the communion between the ecclesiastical movements ratified in the Pentecost of 1998 when Pope John Paul II met the Movements and New communities for the first time, each of which is the particular fruit of a charism endowed by the Holy Spirit to the Church and humanity, to respond to the needs of our time.
Maria Chiara De Lorenzo