"Eighteen years have passed but the effect of that event still moves all of us who were there. I arrived in Rome on December 1999, a few months before. For me it was the start of a new period during which I worked as a graphic technician at the international Gen Centre, in preparation for the Genfest. I would never have imagined what surprises were in store for me that year! One day in February while I was strumming on my guitar, I thought of Chiara "Luce" Badano, a gen like us, who died 10 years earlier, and in her last moments of life had offered her pain for the success of the Genfest. I still can't explain how I got the inspiration to compose a song dedicated precisely to her: "Run, run, tell me there's nothing to fear. Run, run, shine, shine since your light is now in me." I couldn't but entitle the song: "Luz", light. The next day in Loppiano, there was a series of meetings with the group in charge of the music. We had to choose four official songs for the Genfest. A bit nervous, I proposed also that song, and sang it in front of everyone. "Light" was chosen and since then, up to this day, it has been translated into various languages, and has become the symbol of an experience which many young people have made their own, following the example of Chiara Badano, who in 2010 had been proclaimed blessed. After some time her parents, Maria Teresa and Ruggero, upon hugging me said, "You found the best way to make her known, since one who sings, prays twice!"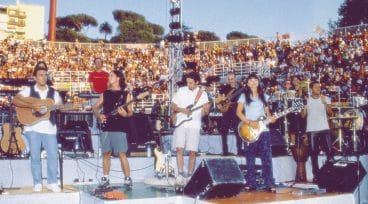 That Genfest, the first organized entirely by us youth, was a real challenge, an experience of maturity and unity among us. When the time came to choose a logo, I proposed the motion of a wave which would continue through time. And another gift was that also that logo was chosen! All was ready on 17 August. Early that morning we were already onstage for the sound check and the last details. Before the start, 25,000 people were queueing to enter the Stadium. Three, two, one… with a percussion of various rhythms and a subtle and unceasing sound, like a heartbeat, finally what we had prepared for months began. It was a varied programme to demonstrate to the youth worldwide that unity is possible. At around 6.30 pm it was my turn, with a song I had composed in Costa Rica four years earlier ("A smile is enough").
The story of Chiara "Luce" Badano was presented as an example of holiness at the mere age of 18, while images of her luminous and smiling face was projected on the big screen, creating an absolute silence in the audience. We seemed to be living a moment of eternity. Immediately after, the first chords of "Luz" resounded. Lastly, the most expected moment was the proposal of Chiara Lubich: "The idea of a more united world, for which many young people are battling, will not be just a utopia, but will become with time, an immense reality. And the future is above all in your hands." Then came the launching of "Project Africa."
But it didn't end there. We still were waiting for the big meeting of the World Youth Day with John Paul II, on 19 and 20 August in the nearby field of Tor Vergata. It was another historical day with two million young people, despite the heat of the day and cold of the night which didn't wipe out their joy of being together. Also unforgettable was the Pope's exhortation: "Do not be afraid of being the saints of the Third Millennium."
Before returning to Costa Rica, in December that year I had the chance to greet Chiara Lubich in person and give her a memoir of that magical experience lived that year: a tiny booklet. But the gifts didn't end there for me: after many years I met Tina, an Austrian girl, who like me had participated in that Genfest. She has now become my wife!".
Sandro Rojas Badilla
Listen to: "Basta un sorriso"
Listen to: "Luz"
Photo: Sandro Rojas Badilla