Married for 31 years, with five children and a granddaughter on the way, Gianni and Maria Salerno would have many stories to tell, along with practical advice on raising children. But for their panel on "Joy and the challenges of parents raising children in today's world," which is the main topic of the meeting in Dublin, they bring to the table the patrimony of the life and experience that has matured for many years in the Focolare's New Families Movement. Some of the topics that will be discussed are: the role of technology in the family, the relationship with the faith, the multiple connections with work, the economy and environment. It is a "family of families," which draws on the spirituality of unity of Chiara Lubich as a compass that marks north on the sometimes wearisome journey of life.
"We'd like to emphasize several "key terms" that seem useful for the relationship with our children and are liveable anywhere in every the country of the world, regardless of culture. The first is detachment. Our children are not ours, they're God's children. This attitude allows us to seek what is best for them, to respect their freedom and to discover God's plan for their happiness. Another important word is accompany, to them feel our nearness so that they can face difficulties without feeling all alone. Thus they can learn commitment, through an ongoing training of the will. Then, there is a phrase that has always been fundamental in our experience and in the experience of many other families from around the world with whom we are in contact: start again. When you make a mistake, when there's a problem, or love is lacking, we can always put a period and begin again, asking forgiveness if we've overdone it when correcting one of our children, which for parents is often an opportunity to unload rather than educate."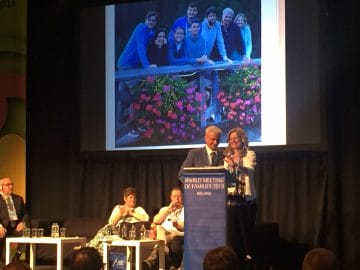 "We should always try to immerse ourselves in what our children are going through. We use a popular phrase to express our desire to listen deeply and be open: walk in their shoes for a while before giving any quick answers. Example, sharing and dialogue are indispensable in a family. You have to be able to talk about anything in a family and parents are the ones who must prove it, using their antennas to catch the non-verbal messages that children send – especially teenagers – which are often provocations.
Then we need to give our time to them. How much effort this involves, perhaps at night after a long day's work, especially when our thoughts don't coincide. We have to allow ourselves to challenge them without any fear of them or their 'world,' even when worries of all kinds arise within us: about their health, the friends they choose, school and the future. When this happens we try to hold on to a valuable piece of advice: be occupied, not preoccupied so as to avoid letting our anxiety make them even more insecure or less free. In the end, what we can always do is to pray for them, entrusting them to God's love. There are cases in which children become rebellious and reject the relationship with the parents, taking on violent behaviours, making questionable choices that are sometimes grave and serious. This causes suffering and destabilizes the family. The wound of having failed at educating our children really burns and makes us wonder: where did we go wrong? Also in these cases we have to remember that we are parents forever and that the door of our hearts is always open. It's not easy, but we can follow the example of Jesus crucified and abandoned who offered his pain and transformed it into Love. Like him, we can also consume our pain by continuing to love our children concretely, along with all the other neighbours who come our way, in the awareness that, in the end, Love will triumph."