'Europe time to dialogue' is an initiative of the Focolare Movement, designed to contribute to the debate leading up to the forthcoming European Parliamentary elections. You can find the page on Facebook.
The choice of a social network like Facebook is significant. According to experts, recent important elections have been influenced by increased activity on social media by groups attempting to sway results – often with motives that are incompatible with democratic principles. This is why we need to become a presence on social media if we want to promote themes related to the common good, inclusion, participation and solidarity.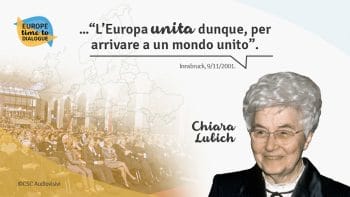 'The Europe time to dialogue' campaign will offer arguments for a more fraternal and a more cohesive Europe in these times marked by the widespread rise of new social egoisms, neo-sovereignties and nationalisms. The culture of unity that springs from the charism lived by the members of the Focolare Movement needs to be at the service of policies that encourage and promote efforts to collaborate, to share and to bring people together.
After all, Chiara Lubich and Igino Giordani are included among the great proponents of a united Europe. They consistently held that a united Europe should be a promoter of world peace and global distribution of goods. In reference to "The United States of Europe for the United States of the World," Igino Giordani, in writings dating from the 1920s, and Chiara Lubich, in the numerous instances in which she spoke to politicians from all over the world, both gave clear pictures of the European Continent's destiny.
This is why the posts in Europe: time to dialogue will have two aspects to them. They will include a message from the past, that is, a quote about a united Europe and its universal mission from leading figures such as Chiara Lubich, Igino Giordani, Pasquale Foresi, Alcide De Gasperi, Konrad Adenauer, Robert Schuman, Paul-Henri Spaak, Jean Monnet and others.
They will also include commentary on current events in the light of the teachings of these leading figures.
To follow us, just find Europe time to dialogue on Facebook. You can leave a comment or a reflection and then share the posts with your friends.
Alberto Lo Presti