01/07/2019
Broken families, divorced couples, people in subsequent relationships, or living together – what's the best attitude to have towards these situations? New Families is committed to married couples and families in crisis.
"Family is an exchange of love – sharing, support, reciprocity. It's caring for children and a privileged place to grow, even for parents. Family means continually starting over."
That's how Massimo and Lucia Massimino describe it. They're in their forties, have been married for 17 years and have three children. They live in Collegno, near Turin, and through Focolare are involved in the New Families Movement, which offers a space for couples to upskill and dialogue. They answered some of our questions.
Today people seem to only talk about the sacrifices that building a family takes. What's missing is anything said about the beauty of the family. Let's start with that.
Lucia: The beauty of the family is the feeling that you are taking care of someone and that someone is caring for you. It is that someone is thinking of you, fond of you, and that you are part of a community.
Massimo: It is also sharing joys and sorrows, even with our children, so that they can see beyond the words you say. It is great when your life moves forward in your children.
Today many families are in crisis, torn or divided. In New Families you take in the pain of many couples – which way forward do you suggest?
Lucia: Certain crises call for us to support them through difficult moments. Couples ask to be able to confide in us – as friends who can understand them because they have gone through something similar. These are only some of life's transitions. When faced with more serious crises, however, we try to walk with the couples towards choices that include professional help, motivated by important values.
Massimo: As a movement we emphasise training a lot. Lucia and I work with young couples and organise meetings where we invite educators and psychologists, with the goal of providing solutions, such as how to manage conflict. These are meetings that are open to all couples, whether engaged, married, living together or separated. The training is inspired by Chiara Lubich's spirituality of unity, which was born in the womb of the Catholic Church, but it is open to people of other faiths or those who have no ties to religion.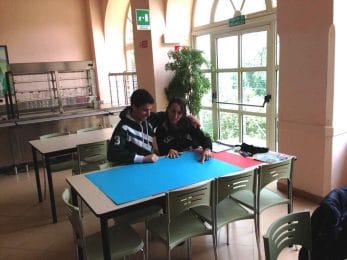 Broken families, divorced couples, those in a subsequent relationship, or living together. What's the best attitude to have towards these situations?
Lucia: In the Focolare Movement we have them truly at heart. New Families tries to get to know them, investing in personal relationships. This is the only thing that can really help, and it allows us to understand the reasons for the breakup and the pain. The days we have dedicated to families are privileged spaces where there is an atmosphere so that advice can be given and there can be the opportunity to start again after a relationship breakdown.
When you talk about family you talk about love. Do you always end up referring to God in your reflections?
Massimo: We feel that marriage brings the presence of God in the family, and because of this presence the family has love circulating through it. As Chiara Lubich says, it recalls the love between the Father, Son and Holy Spirit. We feel that this presence sustains us, even through moments you wouldn't want to go through. It is an experience that cannot be taught; you just have to do it, and we openly say this to couples who are not married or believe.
Many ask themselves, "Can love end?" Is there a recipe so that "forever" can truly last forever?
Lucia and Massimo: Falling in love does indeed end, but the key is to begin again, and to know how to forgive. What nourishes a couple is being able to share the path that marriage brings with other couples, sharing important values, and common projects. It is also important to remember to be a husband and wife in love, not just "Mum" and "Dad".
Claudia Di Lorenzi