With these three words the president of the Focolare opened the movement's Youth Assembly which runs from 10 to 15 September.
As the 190 delegates were being introduced to Focolare President Maria Voce and Co-President Jesús Morán, the overwhelming impression was of a parliament for the under-30s, serving not a single nation but the whole world. These young members of the Focolare Movement from 67 different countries have convened in Castel Gandolfo, near Rome, Italy, for the Foocolare's first Youth Assembly of Gen, young religious men and women, seminarians, together with youth active in the Parish and Diocesan movements of the Focolare.
"We're not only here to organize and plan, but mainly to get to know each other and communicate what is actually motivating us, what's at the heart of our choice to work towards a more united world," explained one of the Assembly team.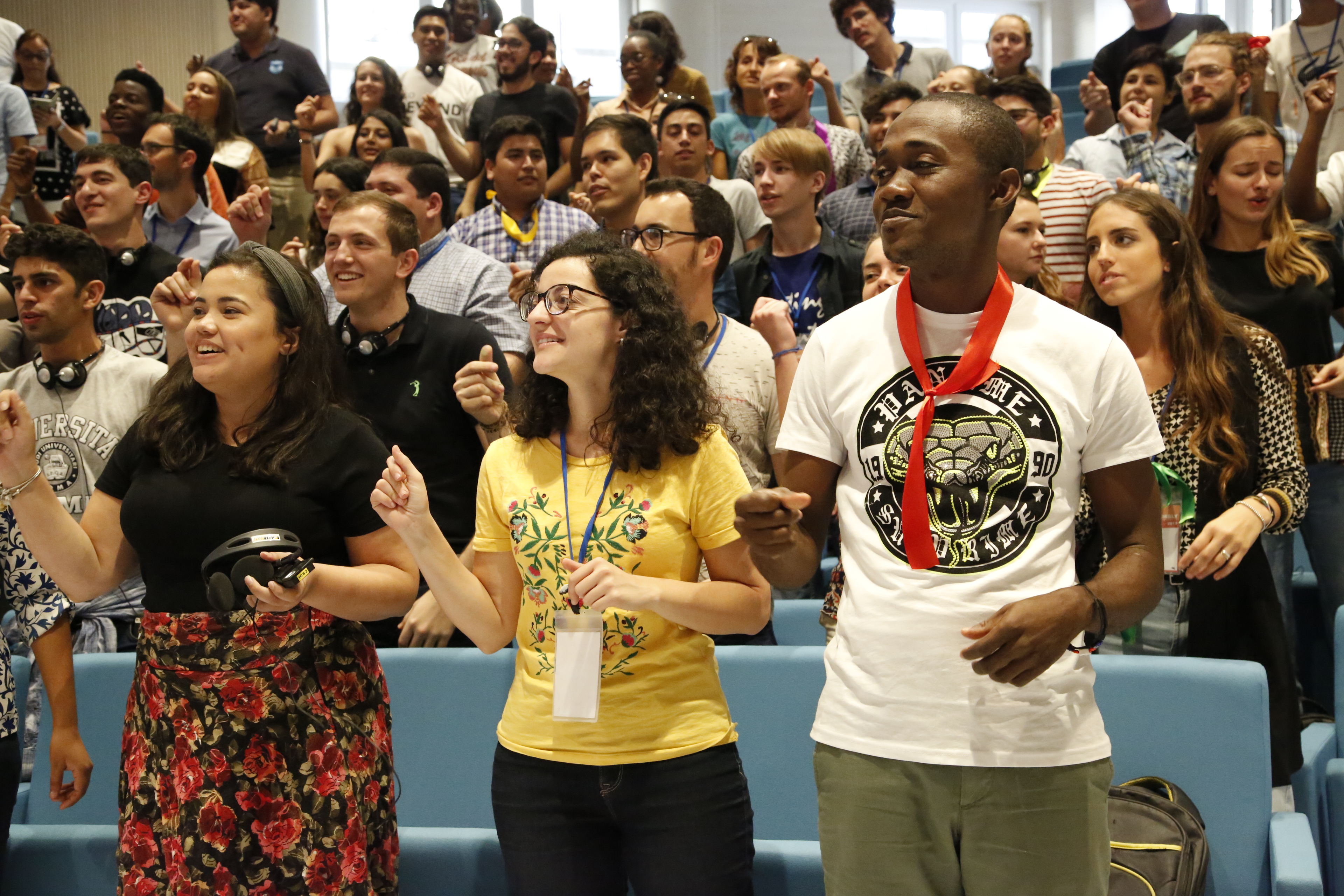 The delegates are drawn from different geographical, cultural and religious backgrounds. They are active in areas such as justice and peace, disarmament, humane economy, environmental campaigning, dialogue between religions and ethnic groups. Many have been involved in challenging summer projects such as the Gen Congress in Amman, Jordan for young Focolare members in different nations of the Middle East and beyond; another in Oceania; workshops tackling legal and economic inequalities, as well as summer-camps organized by the Parish and Diocesan Movements.
The Assembly is designed to promote sharing, learning and planning, drawing on the support of experts. It is distinctly "hands-on". For example tackling issues of identity and life choices (with Fr Vincenzo Di Pilato); how to be protagonists and effective leaders (with Jonathon Michelon); witnessing and participation (with Sr Alessandra Smerilli). The Catholic Church's recent synod dedicated to youth led to the popularly-received "Christus Vivit" document, which will also be discussed during the workshops (with Francisco Canzani).
To guide all this activity, the Focolare President proposed three key words: unity, courage, communication.
Unity – Maria Voce encouraged the young people to "forget" where and what they come from, in order to be able to live complete mutual love and so experience the unity that comes from this.
Courage – "I expect you to have such courage. I also expect your courage to test and challenge the rest of us". Inviting them to speak out and share, she encouraged them not to shy away from making criticisms, but always to express them in "a constructive spirit".
Finally, she urged them to communicate the charism of unity. "You must be prepared to give what you have received to the new generations. This communication can only happen through people who live the spirituality, who want this charism and who then communicate it".
Everything covered during the Assembly will be summarized in a final document containing the contributions and concerns of the young generation of the Focolare as they seek ways of working ever more closely together for their shared goal.
Stefania Tanesini