Luigino Bruni, economist and scientific director of "The Economy of Francesco" said, "Postponing the event will allow us more time to prepare. Young people from all over the world are responding with a great sense of responsibility and even more commitment. The setback could be a blessing."
In agreement with the Holy Father, we are going to postpone "The Economy of Francesco" to 21 November but the work of the scientific committee and of the young people involved in the organization does not stop. On the contrary, it proceeds with great commitment and enthusiasm as we read in the press release of 1 March.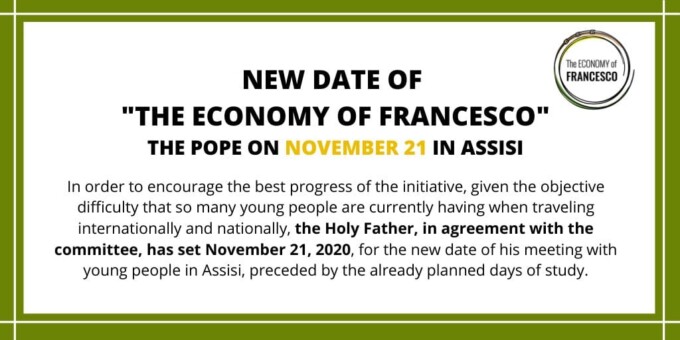 The decision was taken "given the travel difficulties for the approximately two thousand young people from 115 countries who are expected to participate" and because of the corona virus.
The appointment, however, has only been put back and Pope Francis will be in Assisi in November to meet the young people who, during the preceding days, will take part in workshops, discussions and dialogue regarding new approaches to various economic issues.
The general focus of the meeting was outlined in the letter that on 1 May 2019 Pope Francis addressed to "young economists, entrepreneurs and business men and women all over the world", inviting them to "re-animate" the economy – in the literal sense of giving it back a soul – to be among those who respond to the cry of the poor of the earth and do not look the other way.
"This is why I would like to meet you in Assisi," wrote the Holy Father, "to work together to promote, through a common "pact", a process of global change engaging not only with those who have the gift of faith but also with all people of good will, beyond the differences of creed and nationality, united by an ideal of fraternity and attentive above all to the poor and excluded."
In a post on Facebook, Prof. Luigino Bruni, scientific director of the event, thanked the Pope for the new date. "We will be more prepared," he said. "Young people from all over the world are responding with a great sense of responsibility and even more commitment. The setback will be a blessing. We must be realistic dreamers, and therefore live through the anxieties and crises of our time. We must do everything possible not to ' lose anyone" of the 2000 young people who have already been selected, many of whom have already bought air tickets. I was impressed that none of the young people have complained about the postponement – they just want to continue the race. We have already held 230 "Towards Assisi" events and these extra eight months will allow us to hold another three hundred."
Stefania Tanesini