Jully and Ricardo, a couple from Peru, and their domestic: a story of sacrifices and challenges that soon turned into pure love through the hand of God.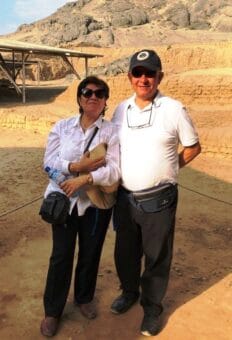 After our family experience at the Loreto School, which is an international school for families in Loppiano, the Focolare community in Italy, we returned to Peru aiming to live the Gospel ideal we had found there. We settled in Lambayeque, a small and quiet town in the northwest of the country.
We hired Sara as a domestic. After a while she informed us that she was expecting, explaining that she had hidden her news after being fired from previous jobs for that very reason.
Listening to her brought to mind something we had learned at the school for families: that in his forsakenness on the cross, Jesus took on every painful situation and redeemed it, turning pain into love. We could see that the situation presented us with a face of that forsakenness.
We responded by consoling her and assured her that we would help with the birth of her child. Apart from the pregnancy, she also had other challenges, because the father of her child was a soldier in the army who had left her. She had fled her parents' house out of fear as well.
At the barracks we discovered the soldier had been transferred to a distant barracks in the Amazon jungle. There was no way to contact him.
To allow her to give birth at the hospital, we asked social services for help so that she could have the prenatal check-ups and delivery. But she was desperate and thought she would give the baby away, feeling lonely and unable to raise her child.
We helped her understand that her child was a gift from God, and that his providence would always help her. Together with our children, we helped her to reconcile with her father and reunite with her family, awaiting the arrival of her child with hope and preparing for the birth with medical check-ups.
Sara stayed with us until her son was born. Then she was able to return home.
Through this experience we saw the hand of God, guiding us to help a mother to not separate herself from her son, reconcile with her family and receive their support.
Here in Lambayeque, she would visit us with the child so we could see how he grew up. We continue to help her with clothes and supplies. She and her father always expressed their gratitude to us and – which was the most beautiful thing – we saw her happy being a mother.
We were left with an immense joy in our souls for loving this young woman as Jesus asks us, seeing how a painful situation turned into pure love.
Ricardo and July Rodríguez, Trujillo, Peru