For over fifty years, the Focolare Movement's little town in Argentina has provided training programmes for thousands of young people from all over the world:   now the experience of living there has university recognition as a "vocational training programme".
Until just over a month ago, many people used to say that the experience of living in Mariapolis Lia was so rich and varied that it gave you a master's degree, so to speak, in "life under the banner of the culture of unity".  Now the "experiencia" – the experience – as the annual course for young people is called really does have university certification.
The new study programme has been drawn up thanks to the collaboration of educational teams from the Latin American Centre for Social Evangelization (CLAdeES) , the Mariápolis Lía School and the National North western University  of the Province of Buenos Aires (Unnoba).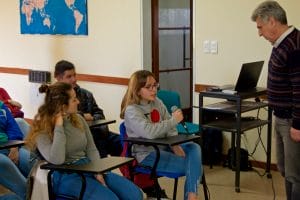 The course will have the academic title "University extension and vocational training programme" and will be based upon four fundamental elements:  anthropology-philosophy, history-culture, the community and the transcendent. It will take 11 months to complete and those who do so will have access to university extension and accreditation of vocational training in three different areas of choice: education, eco-responsibility and multicultural management; community leadership and development of community engagement; or art, communication and multimedia production.
The training will be developed through specialized seminars, work placements and evaluation of the application of values deriving from Christian social teaching.
There are also plans to integrate this course with the Latin American section of the Sophia University Institute.
Mariápoli Lía, situated near the town of O'Higgins, Buenos Aires, offers young people an educational experience that integrates work, study, cultural and recreational activities, sports and specific interests.  All activities are regarded as integral elements of formation. In fact, the notion of student coincides with that of citizen, therefore, it is assumed that all young people who live there are engaged in the life of the little town.
A team of teachers and experts in a variety of disciplines – spirituality, anthropology, sociology and Christian doctrine – follows the young people in their learning.
The 6000 young people who over the years have spent a period of time at the Mariapolis are proof of its formative value.  In their later lives in a range of different environments – as managers, economists, educators, professionals, workers, parents, consecrated persons… the "experience" has remained a shining point, helping them to overcome personal and professional challenges.
Stefania Tanesini