He was playing his music in the airport lounge as people walked by with an air of indifference. There was a  "game"  of glances and smiles happening. These are the mysteries of good relationships, capable of generating reciprocity. Small gestures that make you share something with the other person and feel part of the same humanity.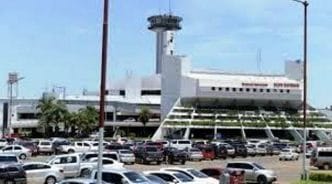 I was returning to Paraguay after many years in Europe. I felt moved when I first glimpsed the red earth and green areas that are so typical of the country as the plane began its descent for landing. The international airport, Silvio Pettirossi, had not changed much. The first impression as I stepped out of the aircraft was the suffocating heat that brought back distant and much-loved memories. Instead of feeling asphyxiated, I took it as a warm hug from the many loved ones I would find there.
I waited for my luggage in the baggage reclaim area of the arrivals and departures hall and I noticed the duty free shops and a bar but then my ears were invaded by the wonderful notes of a Paraguayan harp. I looked around to see where  the music was coming from. And there he was, sitting in front of the bar, as if totally embraced by his large musical instrument, a man with a serene face and indigenous features: the Paraguayan harpist. His music spread through the room, filling it with harmony and the joyful notes of a Paraguayan polka. I was struck by his discretion and the indifference of the people, as if they were so used to the harpist's music that they were not aware of it. It was as if it were part of the scenery, like the bar, the shops or the area for collecting luggage.
The man seemed resigned to producing such beautiful notes, without anyone – apparently – noticing his presence. I instinctively reached into my pockets and remembered that I had set aside five dollars for a tip to give to whoever would offer to carry my suitcase to the car that would pick me up on the way out. (There were usually boys who did this). I approached the harpist discreetly, looked at him gratefully, and left the five dollars in the hat in front of him, fearful of hurting his feelings, knowing that his music was worth much more. It was a simple gesture, but my intention was to thank him and recognise his talent, even on behalf of those who didn't seem to notice him.
Three unforgettable weeks passed by, full of encounters with  people who I loved a lot, and then,  once again, I found myself in the same area in  the airport, but this time waiting to take the plane back to Montevideo, where I was staying. My friends  were still waving goodbye to me over the glass barrier when, to my great surprise,  my ears could hear the notes of "La Cumparsita". This was  the tango that gained popularity thanks to the incomparable voice of the French-Argentinian singer, Carlos Gardel.
But what had happened? We were in Paraguay and  it was usual to hear Paraguayan music. But where were  the notes of that tango coming from? I looked around and there he was again, in front of the bar. He was sitting with his harp and gave me an almost complicit smile.  It was as if he was saying, "Did you like that surprise?" I said, "That I was delightful," and gave a similar smile back again but with a questioning look. I wondered how he had managed to recognise me – among so many people passing through that room – and again, how he had guessed that I was Argentinian!
These are the mysteries of good relationships, capable of generating reciprocity. They are small gestures that make you share something with another person and feel part of the same humanity. Since that time, whenever he saw me in the arrivals and departures hall, with the luggage area and duty free shops…. he stopped his polka and started to play a different tango, dedicated to his Argentinian friend.
 Gustavo E. Clariá