"Giving' is like a breeze that opens so many doors. Here is the story of some Youth for Unity who supported a family in need on the outskirts of  Buenos Aires, Argentina.The friendship that developed led to them sharing in experiences they could never have imagined. 
The work begun a few months ago by Youth for Unity, together with New Youth and other members of the community, in the cities of Rodríguez and Luján in the province of Buenos Aires, has developed in an unexpected and providential way.
It all started at Christmas 2021, when some  Youth for Unity thought of the fact that some families would not have anything special to eat during the festive season and they decided to take concrete action.  . The first thing they did was  was to contact Titian and his parents.  Titan was five years old and lived with his family in difficult circumstances in a very poor area. They prepared a beautiful hamper for them, full of delicious things they could eat at such a special time: these included a chicken, a salad, good wine, cider, panettone, pudding and some fizzy drinks. They also thought of some presents.
But the joy they created did not end there. When the Youth for Unity took the Christmas hamper to the family, they began to understand first-hand the reality in which these people were living.  Having decent housing, even if only to avoid being left in the cold during the winter, seemed utopian. "It was shocking," one representative from New Youth said, "but, at the same time, it was also a moment of real joy. In addition, chatting with Titian's parents, the child's enthusiasm to start the first year of primary school emerged and our concrete response was unanimous: 'let's support him!'"
"We decided to buy him everything he needed for school. This meant shoes, socks, t-shirts, trousers, apron, backpack, exercise book, pencils," say the Youth for Unity, who also received financial help from other young people, friends from Mendoza in Argentina and Guatemala. They still remember Titian's first day at school: "Mum sent us photos of the child with his new things, they were really very happy."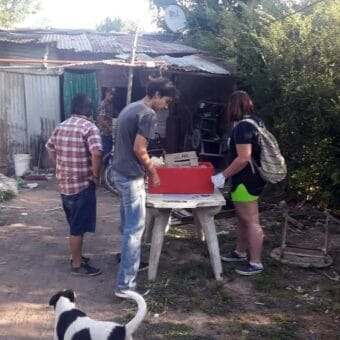 But there is more. Some time later, volunteers and other adults who knew the Movement – many of them housewives linked to New Humanity –  told them that they had providentially obtained money to buy materials to build a house for the family.
Ricardo, the father, was an accomplished builder and also had some sand and building materials. In this way, the financial help was transformed into bricks and cement and within 20 days, the house was standing. Winter was approaching and it was very important for them to have shelter. A voice message from Titian on WhatsApp confirmed this: 'Thank you for donating the bricks for my room.'
(from Ciudad Nueva magazine, Cono Sud)