Michael Lee Jae Bung and Agnes Song Eun Ju have been married for 17 years, they have two sons and a daughter of 12, 8 and 4 years old. Michael works in a firm in Korea which deals with the management of various materials.
Michael:
My wife and I met thanks to a mutual friend. I have a very timid personality and Agnes made me feel very tranquil because she listened to me with such attention. After an engagement of 5 years we  decided to get married even though there were doubts and fears due to Agnes's handicap; my parents were against our wedding. Therefore we went privately to a priest , said our marriage vows in front of God and began our  wedded life together.
I didn't want children because I was content to be just the two of us.  At this point, we were invited to a New Families meeting and we learned a new vision of conjugal unity, the importance of life and family. After the meeting, my wife and I started to pray fervently with an open heart ready to welcome children. After 5 years of marriage, our first son arrived like a gift from God.               Finally my parents accepted Agnes as their daughter-in-law for the first time.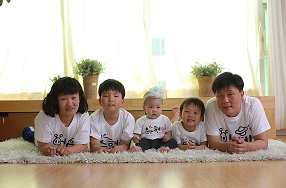 Our first son always said this prayer "Please God, give me a little brother"; he was envious of his friends who had a younger brother and so our second son arrived as a Christmas gift.
Five years ago, when I knew my wife was expecting our third child I was very apprehensive. I was afraid and weighed down by the responsibility of being head of the family and by our finances which were not very solid. There was also the problem of my wife's health and the risk for the baby.
I was becoming more nervous in every moment and felt I was entering a dark tunnel. Facing up to this my wife only said " Please do not have bad thoughts". She went alone to the hospital check ups and again alone, put up with morning sickness and other difficulties .
I felt awkward in this situation of not being ready to accept this baby. At the seventh month, my wife called me to say that there was a possibility of a premature birth and she would have to stay in hospital.
"I am being bad to my wife and child!" I thought. Only when I received this news was I ready to ask for forgiveness. I cried and from that moment started to pray, clinging to God. I started looking after my family and started the preparations for the baby's arrival instead of leaving everything to my wife.
I finished work at 8 o'clock and then took care of her in Hospital and of our two children at home. I was very busy for 3 weeks but it was a special time in which I was dedicated to my wife and prepared myself to welcome my daughter as a gift from God.
I believed that all this was part of HIS plan and I wanted to live well the "present moment", by entrusting all our difficulties to HIM be they big or small. I was worried about paying the hospital bill but an hour before being discharged the management received the confirmation that there would be financial help for the cost. We experimented the delicate LOVE of God who even counts the hairs on our head.
Agnes:
Our daughter was born healthy even if before the due date. Her two big brothers were very pleased to have a little sister and they wanted to help me and played with her before feeding time. If I couldn't be with her for a moment her two brothers were beside her to look after her. Looking at my children I gave thanks saying"God has sent us a a gift which was exactly what we needed !"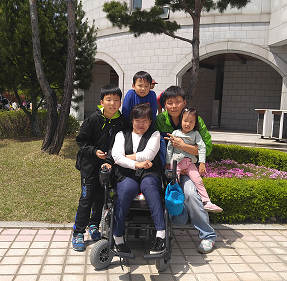 As our children grew we saw truth of the the words of Jesus "do not worry for what you will eat and for what you will wear". In fact clothes and other necessities for the children arrived at the right moment by His providence. One day, a neighbor brought us a slide which her grandson had used, our second son was so happy and said " Mummy! Maybe Jesus sent me a slide to practice on as I don't know yet how to slide!"
I never wanted to give lots of things to my children just what I can and lots of love. My children are independent and are considerate to others.
I know that my family has become complete and that we are collaborating with God's project of Creation when we say our "Yes" to his will. When we have doubts about raising the three children which God has sent us, I thank Him for these moments, which make me realize that when God sends a life into the world, he also gives the gifts to welcome it.