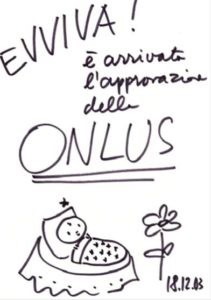 Its roots are found in the programmatic speech of 1967 of Chiara Lubich when she announced the creation of the New Families Movement and its scope being action for families, engaged couples, widowers, with attention to situations of family suffering
Alberto and Anna Friso, who were alongside Danilo and Annamaria Zanzucchi for years, and were also the first presidents of AFN No Profit, said this is "a new tool" which expresses in public form the commitment to promote and support family values.
Alberto and Anna define the relationship between the New Families Movement and AFN with the metaphor," A bud which is flowering in civility" born from a solid strain. This bud, born in 1998 as an association, became a non-profit organization in 2003.
Among the images we have also included original drawings in which Danilo Zanzucchi , who for many years has led FN with Annamaria, from time to time has captured the moods and the founding moments of this story of ours.
Our society needs families to grow in awareness of being the subject and source of culture, education, sociality and so on, AFN no profit, works on developing three main areas of intervention: long distance support ,international adoption and projects of international cooperation and formation . We will see how each branch of action has its spiritual and cultural roots in the beliefs of the family of Chiara.
In her programmatic speech, Chiara invited families to take on their shoulders, the portion of the world that is most shattered and to ensure that the pity felt for situations of family suffering "is not just a sentiment but becomes works that will follow us to Paradise".
In this perspective, Long Distance Support was born in the heart of the New Families movement towards the end of the seventies,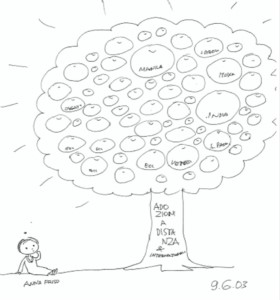 in order to
respond to the hardship of children and their families, hardships caused by wars and situations of extreme poverty. Its aim is not to remove children from their home environment, but to help them become New Men, who with their parents, will build a new society in their country. In 1993, at the Family Fest, for the first time, the launch of the SAD (Long distance Support) was radiated by 13 satellites in world wide television.
Since then, projects for disadvantaged children have expanded considerably. Hundreds of interventions have been carried out by AFN in recent years, and today there are 99 interventions active in 49 countries in the world. In his drawing, Danilo represented them as a tree rich in fruit. Nutrition, schooling and basic medical care programmes are offered with the support of an extensive network of supporters. Long Distance Support programmes are managed by our local partners in various structures mostly Social Centres, Clinics, Nursery Schools, Kindergartens, Primary Schools and After-School. We also try to give training to parents through professional workshops and literacy courses with a view to their complete personal and economic autonomy, also seeking, where possible, collaboration with national and international partnerships.
AFN no-profit aims to lay the foundations,through time, for a sustainable change through learning to share and by the culture of GIVING. The story of Jean Paul Ngandu Masamuna, 31 years old and seventh of nine children of a Congolese family, from Kinshasa is an example "When I was little," says Jean Paul, "my father was at war, my mother had nothing to give us to grow up with. I had to fight for survival. The Petite Flamme (Little Flame of Hope) social centre fed me and gave me the opportunity to study. Today I am an engineer. I love living in Kinshasa, I want to stay and work for the Congolese people."
But long distance support is also an opportunity for growth for donors,who are individuals, families or groups. Raffaele testifies to this with his story. "Dear citizens", he wrote in a letter to all the families in his municipality (Capanne in the province of Pisa) "we take the liberty of entering your homes so as to awaken dormant feelings in you. With a small gesture you can give back life to those who have no hope." It was the beginning of an adventure that involves families and associations, and has also extended to neighbouring municipalities. Currently, 50 children from the "Santa Teresinha" project in Recife, Brazil, are being supported.
We said that AFN no–profits was born from an idea which Chiara launched to New Families, so they feel it is a reality which is an integral part of their commitment and with various groups promote these interventions with many initiatives; like taking advantage of events such as baptisms, communions or celebrating degrees to raise funds and help buy educational materials or other essentials. Parish festivals or markets which are included in local fairs are also an opportunity to
present AFN, as is the case for example of the New Families of Genzano, a town in a region in Rome (Castelli Romani) which at Christmas organize a charity market to help implement projects such as AFN no-profits. The workshops for the preparation of artefacts are open to everyone: our families, young people and many others, give their time, and all material which is used is gifted, so what is derived from the sale is entirely allocated to projects. "By working side by side, relationships become deeper," says the Fiorillo family. "During the months of preparation and the day of the fair, we hear many big or small stories which are intertwined, that remind us each time of how often people, families, find themselves alone. Opening our hearts to our neighbours is not difficult, and getting involved in the first person makes us experience a sincere joy. The mutual interest relationship created with local associations makes working together beneficial on home territory .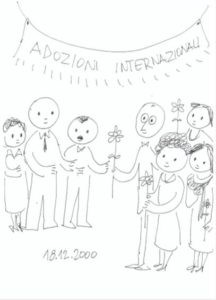 International Adoptions
When it is impossible for a child to grow up within his or her biological family or in an adoptive family in his or her country of origin, there are International Adoptions that guarantee a family for this child. To find out about the beginnings of this, we must draw again on Chiara's speech that tells of the torment of a very young but seriously ill mother with 10 children , who thinking about the future of her children without her, was looking for families "with a certain human and economic well-being" to accommodate them. Since then, many New Families, moved by this desire, have embarked on this journey, and have opened up spontaneously to fostering and adoption.
Then this reality evolved and in 2001 is was updated with the birth of AFN as an Authorised Body for international adoptions
In the drawings, Danilo in 1999 imagines a manifestation of people outside the FN centre which is represented as a stronghold, asking for "adoptions immediately". Finally in the drawing of 18/12/2000, the entry of AI in AFN.
In 1993 , on the occasion of the Family Fest in Rome, Chiara defined the family as "the seed of communion for humanity, the seed of acceptance that opens up to mutual interculturation ". AFN wishes to also focus its commitment to this dimension of family life by responding adequately to the institutional role entrusted to it for the accompaniment of adoptive couples . AFN feels, that it must in fact offer a context in which couples are given the opportunity to be immersed in a content which reflects on the role of the family, be enriched by its contents and be shaped to the value of diversity.
One of the first steps that couples take in order to approach the adoption experience is to make their own the child's country. One of them writes: "Love for this land so far away (ed.they speak of Vietnam) has entered our lives, in our families and involves the inhabitants of our small town! Having met so many children in institutions, we try to live for them also… We feel that through our children we have broadened our gaze on the world".
The generative love of a mother and father gradually replaces the sense of abandonment in the children until they experiment ,with time, that they are able to face the future with confidence and hope. To date, through our six offices throughout Italy, 900 families have welcomed 1030 children, from all continents, into their homes and together we have made this journey towards an inter cultural world and crossed bridges of peace by opening up various horizons. But the real, effective and lasting support that the adoptive family have in its daily life is the family itself. The network of families that adoptive couples are in touch with ,after their return to Italy, is a fundamental part of the experience they are living. A famous African proverb says "to raise a child you need a village". It is here that we are all called as families to generate communities which are alive and committed not to leave these families alone, to participate, not only with sentimental transport but also concretely in the various initiatives proposed.
Projects
In order to realize those works that Chiara invited us to carry out in an incisive and structured way and to be able to respond in the best possible way to the needs of the humanity which is suffering the most, AFN also deals with social projects. At the base of each project is the desire to intervene when needed and to meet a need, in close collaboration with families and local communities , which become protagonists of a sustainable development and a new social fabric.
We have always tried to respond to requests to all requests for help that we have received. In 2004, we already felt the need to implement targeted actions in an organized way. The project "A family, a home" in the Philippines, was launched worldwide at the Family Fest of 2005. and the construction of 140 houses for families in situations of extreme poverty kicked off. Today in particular, AFN carries out projects of family orientated formation for the families of international cooperatives and also assistance interventions following humanitarian emergencies.
Among these we can remember the intervention in Equador and in central Italy following a violent earthquake, and in Haiti after the passage of Hurricane Matthew . In the case of humanitarian emergencies ,AFN and AMU are references for fund raising and joint aid interventions in the name of the Focolare Movement.
Another need of recent years is, to give a concrete response to the countless landings that affect the Italian coast where often, the protagonists are minors who arrive in Italy without a family. Last year, Fare Sistemi Oltre l'Accoglienza (What to do after the welcome) was born, with the aim of encouraging the social and work integration of Italian and foreign young people, through the activation of professional courses and apprenticeships with the support of families and companies that will support their path of integration. This project was born as an evolution of the "taking young people into the family" experience aimed at hosting young foreigners for short periods, during the summer or Christmas holidays with families from various Italian regions and perhaps some of the Italian families present here have experienced it first hand. The positive experience has therefore become part of a much larger project, in which the network of families plays a fundamental role. The family is in fact a privileged welcoming environment where the sharing of pain can heal wounds and can help these young people to build their own identity, made of past, present and future.
Such as Peter, who arrived in Sicily on a boat from Egypt when he was only 16 years old. Peter got to know some families of the Focolare Movement in Catania,and is a boy full of resources and is committed to supporting himself. He decided to move to Milan, where he was put in contact with other families of the Movement. Today he works in a restaurant and is integrated. Peter made it and a post written by him on Facebook shows this, in which he sincerely thanks all the families who supported him.
Moreover, among the objectives that AFN proposes, an important part concerns the global formation of the person, both as an individual and in his relations with others. This is where the training projects come into play, including the LORETO SCHOOL, already described above, and Up2Me, which is aimed at boys and girls, in pre-adolescent and adolescent age, to provide them with training on the delicate issues of affectivity and sexuality, as we will soon feel in greater depth.
So, to conclude, all we can do is to continue, together, to be close to that portion of the shattered world that Chiara entrusted to us in 1967 ,which many times we do not know how to reach. AFN, an effective tool, can help us to create opportunities for aggregation, as well as territorial interventions , helping to build and spread pieces of universal brotherhood. In this way we can become more and more protagonists of many initiatives and proposals that we could divulge on the website afnonlus.org, on our Facebook page, the magazine Spazio Famiglia.
To conclude, a last drawing by Danilo: He hoped to do some jogging, but AFN, the child in the cradle now grown, calls him to work immediately. We hope that all of us who are committed can always have the smile which is on Danilo's face.
Giovanna Pieroni