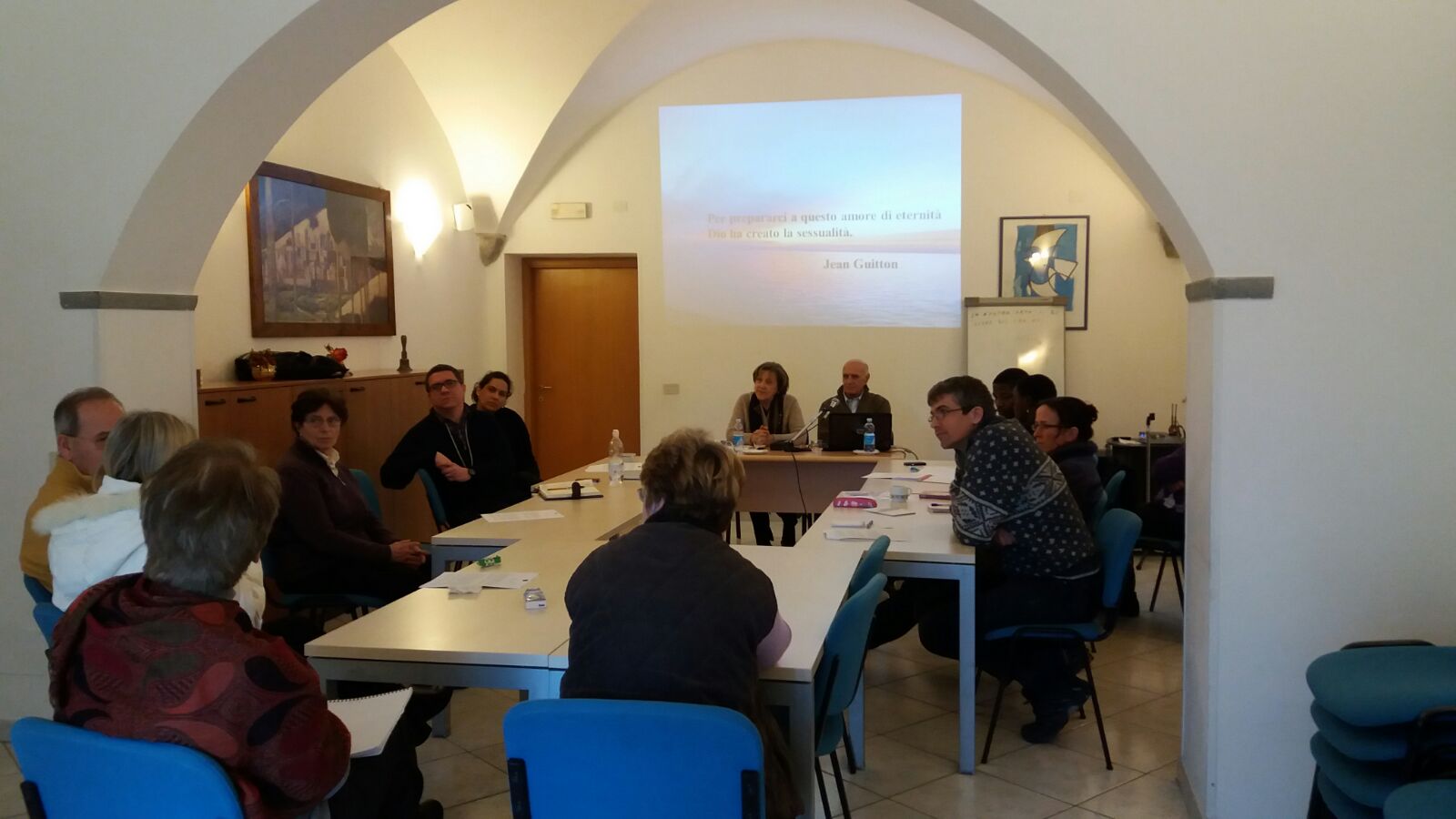 Also this year at the Scuola Loreto some families have arrived for a unique experience in the world, where internationality favors the opening and the osmosis between the various cultures and the search for dialogue and reciprocity is daily tension.
We present one of the many that has put itself into play
Fiorella
At the moment, our family is made up of myself, Fiorella 34,from Italy,  Alberto 37,from Argentina and our daughter Isabel , who is 2 years old. We have been married for almost three years and live in Loreto but we feel citizens of the world due to the various experiences that both of us have lived in different countries.
An act of love, received personally, was one of the first steps that led me, Fiorella, to the Movement.  The following shower of love, involved us as a couple and we developed a strong desire to know more about the Ideal and to live a formative experience as a family under this light and carism.
In 2005 I was in Leeds in the north of England for work experience. I was a bit lost for the first months due to the obstacle of the language and limited socialising so I decided to go to a Parish which I had heard was active and inter-cultural….there I received three great gifts: the joy of knowing the Focolarine, busy in many activities, the possibility of reading some writings of Chiara (among which were my first Word of Life and "Here and Now"a little book which went right to my heart!),                                        the meeting with another girl who was not part of the Focolare but had been a Gen and had unity and mutual love written inside her, she transmitted so much of the Gospel being lived and of the Ideal.
She was also temporally in Leeds and seeing me a little lonely, didn't hesitate for a moment to invite me to come and live in her home for the rest of the time I was there. I couldn't believe such a generous welcome, and filled with wonder and gratitude I accepted, and from that sharing of a flat, began a strong friendship and mutual support which has never ended.
From that experience I developed a deep interest to know more about the Movement which I consider to be one of the most concrete realities of today, open to the challenges which the Church must face in order to sow something effective in a world which is ever more divided.  However for many years, busy as I was with work, I never managed to dedicate the time and energy I would have wanted, until three years ago, when I started to study again. Through doing a second degree in Economy, I took the chance to study one of the points of the Opera which had always interested me: in fact I graduated with a thesis on The Economy of Public Goods and  by  analysing some cases which ,with joy and fatigue, are practising the message which Chiara launched in Brazil in 1991.
Alberto
Here everything gathered strength and involved all of the family: especially me, Alberto, 37 years old, originally from Cordoba, Argentina, and living in Italy for five years.   I was the one who thought that the Loreto School would answer our wish to live the Ideal together, and through this formation school,we could deepen and mature in many ways ;personally, as a couple and as a family.
In the beginning I learned of the Movement from my wife but as I started to get nearer I was really struck by how the work of the Opera is intense, concrete and widespread ;I am rediscovering my faith and spirituality under a new light. I come from a Jesuit education, my parents are Catholic and I have an uncle who is a priest (charismatic and famous for his many books which are a bit revolutionary!);but up till now, even though Loreto is bustling with religious movements, I have never found a way to live the Gospel and maybe I needed concrete examples to reinforce this side.
Here in Loppiano, I feel the  peace, strength and serenity which helps me to live this aspect with myself and with my brothers,by maturing the concepts of "God is Love, Jesus in the Midst and Jesus Forsaken". At home we are part of New Families and before coming here, we took part in some local meetings with other families from the Marche(an Italian region) where we could share and compare our lives. It was through the family responsible for our region that we made an official request to come here.
According to us, this family incarnates the spirit of the Ideal, to the outside world and of course within the family; it was their  relationship with their 3 children which struck us and it is a stupendous example of how we want to be with Isabel and other eventual children.
New Families organise meetings for couples and families who are in difficulty and we were very enthusiastic about the content and the useful tools provided and with this purpose in mind we want to learn more.
Fiorella.
In our brief but intense journey as a family we haven't been spared from problems: apart from our strong union , the different family  backgrounds, some things which happened and we couldn't control the reaction, put obstacles in our way but love and the strong will to build a healthy and open family kept us going . By living, sharing and comparing ourselves with others, we hope that one day we may become part of the group of Chiara's ambassadors giving Christ' s message to the world.
We stayed for a short time in Loppiano last December and for a month this summer and thanks to the encouragement of the other families who already live here and from the School, we decided to live fully this experience at the Loreto School, " by suspending" for almost a year our routine and concentrating on the many aspects which will come out of the lessons and from life itself in this inter-cultural community. Even though the economical sacrifice is great, we feel this moment of formation is precious, for our individual growth, as parents, in our social life, to have the right priorities and to sow an eternal seed in our daughter.
In one of the recent meeting of this first period, both of us, almost as a confirmation of everything, picked out  "by chance" this phrase: "Like me, you have been dazzled by the brightness of an Ideal which  exceeds all, which re-assumes the infinite Love of God. And HE, my and your God, has established a common bond between us which is stronger than death".
Even though we met the Movement at different times and in different ways, both of us believe in this; in the light from the Ideal and the strength of God's Love, which will support us in the face of earthly criticism  but also beyond death and with this belief we want to continue our journey as a family.