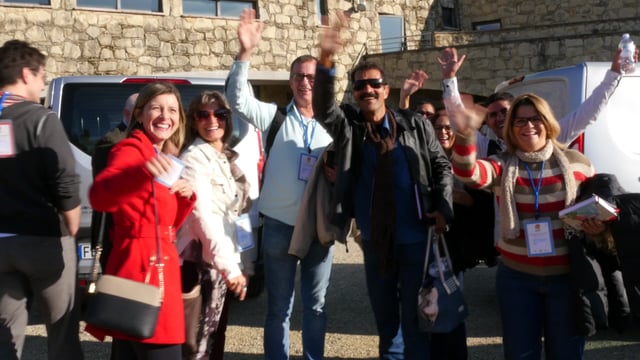 (…) It seems to me that if we want to give back to the family its true countenance and restore its splendour, then besides the talks, the admonishments, the directives, and the presentation of experiences, great value should be given to the shining and universal example that eternal Wisdom has invented: the family of Nazareth. All the families who are now, or ever will be, in the world, can look to this family as a model and prototype. Not only the families as such, but each member of every family can be inspired by this family of Nazareth to know what attitudes to assume, what relationships to foster, what virtues to improve.
Every man on earth who is a husband and father will always be able to find in Joseph-Mary's husband and the foster father of Jesus – a light, a stimulus, a source of inspiration.
From Joseph he will learn fidelity at all costs, heroic chastity, strength, quiet diligence, respect, veneration, protection for the mother of his children, and a participation in the family cares.
And every woman who is a wife and mother will be able to discover in Mary the person she is called to be, her equality to man, her own identity. In Mary, as Joseph's wife, she will see her own desire to share a leading role completely fulfilled. From Mary she will understand how to go beyond the family circle in order to share the rich qualities that are hers to benefit many. They are her capacity for self-sacrifice, her interior life that makes her confident, her inclination to the religious aspect of life characteristic of women, and her innate need to elevate herself and others onto a higher plane, with her presence, speaking of innocence, beauty and purity.
Analogously, children will find harmonized in marvellous unity in Jesus, the son of the family of Nazareth, the two conflicting tendencies that may disturb them. On the one hand, the need to assert themselves as a generation called to open a new chapter in history and, on the other, the desire to find protection in the security of their family, in love and obedience.
Yes, the Holy Family is the masterpiece of human coexistence – which mirrors the life of the Trinity where love makes God one.
May this family stand before us today, together with us, to guide this day for the good of the family in the world and in the Church, and for the glory of God.
(Source: Family and love – Rome, Palaeur, May 3, 1981 Message of Chiara Lubich to the first Family fest)