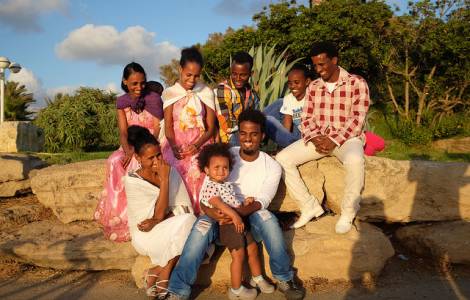 (…) In the past, the rosary was said in the family. This is understandable because by doing so we are able to review the mysteries of our faith every day. We are able to praise Mary over and over again: "Hail Mary, full of grace… blessed are you among women…" A person who feels just a little bit of love for Mary willingly says the rosary because a person who loves never grows tired of expressing words of love to the person loved.
The Church still advises us to say the rosary. But if this seems to be too much for us, can we not say just part of the rosary? Fundamentally, this prayer develops our relationship with the person who, in God's plan, is the way, the gate that unites us to God, and hope, also because she is the mother of every Christian family.
In the evening, before going to bed, the family can say another brief prayer together, as in the morning. We can give thanks for our day and make an act of contrition for the mistakes we made and resolve to do better the next day.
These are some of the prayers that can be said in the family throughout the day, and for those who can, there are many other wonderful initiatives, like going to Church to visit Jesus who is always too alone….
And on days which present different needs, the family has many opportunities to meet together and ask God's help: for the success of an exam, for instance, for the birth of a child, for a sick person in the family, for a financial problem, for the solution to a spiritual crisis…. Jesus said, "Ask and it will be given to you; seek and you will find; knock and it will be opened to you" (Mt. 7:7). And if he said this, it is true.
(Source: Family and prayer – Congress on the Family and Society: The family centred on God is open to all humanity – Castel Gandolfo, April 8, 1989)