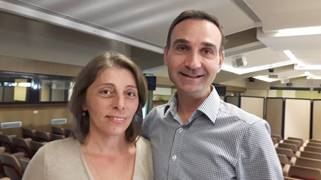 Marcella and Marius live at Cluj-Napoca in the North West of Romania.  They have been married for 19 years and have three children of 17, 12 and 8 years old. Little Petra was born after a life experience at the Loreto School at Loppiano where they decided to open up again to the eventual arrival of a new life.
"We got married convinced to remain together until the end, we never considered the possibility of divorce. After the first two or three years, we saw that it was not so easy to love one another, even if we were Christians and attended church every Sunday. We felt the need to have a model to show us how to live various situations in our family and to know how not to break the harmony between us. By ourselves we couldn't go forward in the  atmosphere of peace and love  we had thought possible before getting married. We searched for years for something that could help us.
One day a friend invited us to a meeting for the Focolare families at Cluj-Napoca where we live. The families,of all different ages in that group, gave their testimony: this was just what we were looking for. We understood that love is concrete and little by little we also started to love as Chiara Lubich showed us, being first to love without waiting for the other to make the first move. For example after a row, instead of thinking that the other should admit that they were mistaken, we tried to love without expecting anything, and started to understand that it wasn't important who was at fault. What was important was to make the first move and be merciful. This way of life was a real revolution for us.
The experience of the Loreto School completely changed our life., it rappresented the most precious year for our family. We were 10 family units coming from 10 parts of the world. It was like a journey of growth as a person, of understanding one's self and one's limits, of understanding how to give the best of ourselves and to stimulate reciprocity. We took part in courses of psychology, pedagogy and spirituality, but the reason the  Loreto School experience was very strong was because we discovered the presence of Jesus in everyone including my husband.
One evening when the children were in bed we had a row, I don't remember what about. In that moment I said to Jesus, "You can't be in my husband at this moment; but you said that you are always in him" In that moment my husband turned round and looked at me for a little while and I found the strength to start again.
It was necessary that each of us changed inside to be"truly" a family. When we returned home to Cluj-Napoca, we tried to bring with us that reality of reciprocal love, that we had lived at Loppiano"
Now there are many families in Romania, scattered across the country. Together we help one another to carry on and not to stop, no matter what difficulties present themselves.
And…the adventure continues!