Like so many other people,  we are experimenting the positive effects of this particular moment in time in our family. Having Sunday Mass at home is a source of great joy : a moment in which each of us will leave what they are doing in order to participate at the celebration of mass on TV. I didn't think that Simone, our only son, would take it so seriously but instead he is composed and silent as if we were in church! It has been a very special moment and has united us a lot , we hope it will help to strengthen prayer in our family.
Another fruit is playing together! Often the time we spend at home is limited and in the evening we are too tired to play together other than just watching television . Recently Simone had expressed the desire that we play more with him and now it has happened! For example, we have done a lot of puzzles, some very complicated and made up of 1500 pieces that took up most of the day. In the evening Mario – who has kept going to the office while I work from home – finds the energy to throw himself on the floor to play with him: they have rediscovered a great passion for Lego! Another thing is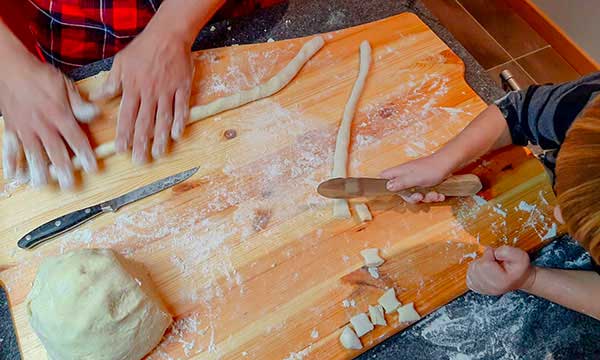 we pamper each other more and try to give each other a boost by thinking of something special to do for each other. For example, I have more time to dedicate to cooking and I set up small workshops with Simone (he almost always decides the menu) so that Daddy can find a special dinner when he comes home from work. The other day he helped me cut up all the vegetables, they were really many and he didn't get impatient. Yesterday we made pizza together.
Another experience we are having is home schooling! As class representative, I try to find the best way to love the families and the teachers and  keep the relationships alive through chat and phone calls (this week also email!)  While I work at home I try to find ways of stimulating Simone to do his homework and this requires a certain commitment but it is also another opportunity to get to know each other and to love each other more.
Of course being locked in the house is difficult, Simone misses school and his friends. I miss the theatre and the gym, although I started doing some exercises at home today.
All in all, I think that this epidemic is giving us the opportunity to rediscover and appreciate the little things, to put the family and loved ones back at the centre of our life.
(Source:www.focolaritalia.it)