In San Salvador, we are under lockdown, just like the rest of the world. Fear which is understandable but, in my opinion, exaggerated, has taken hold and measures to contain the virus are being introduced which contravene human rights.
The emergency is being exploited to undermine democracy and, once again because of fear, much of the population is calling for strong leadership. The pandemic has consequently generated a return to authoritarianism as a way to combat the virus. This in turn has led back to intolerance and a break in dialogue which has generated feelings of anger and revenge. On top of this is the negative impact that the closure of non-core activities, the high percentrage of informal economy and the reduction in remittances is having on the economy as well as the high level of debt caused by the emergency.
This situation is a huge desolation for me. I experienced civil war as a young man and, despite many illusions, the arrival of dialogue and the signing of peace. I followed the slow process towards democracy, never completely satisfied but always hopeful. I never imagined that I would see armed forces dominating the political stage again and the collapse of constitutional order. It is a personal suffering and a suffering for society which has at times impacted negatively on my optimism. I think we are heading for an economic and social crisis in the near future that will affect democracy and especially the most vulnerable.
The spirituality of unity we try to live as a family urges us all to take concrete action in favour of those close to us. On a personal level, as I am now working fulltime from home, I try to love Irene, my wife, in the first place by appreciating all her efforts to cope in this difficult situation, helping her and covering the gaps caused by the pandemic because there is noone to help us at home. With joy I try to prepare the dishes that Roxana, our youngest daughter, likes, and I offer encouragement to Irene Maria, our oldest daughter, who studies abroad. Every day I hear from my parents and take care of their needs. We try to support and offer reassurance to the people who normally help us at home, by guaranteeing their salaries, for as long as we can…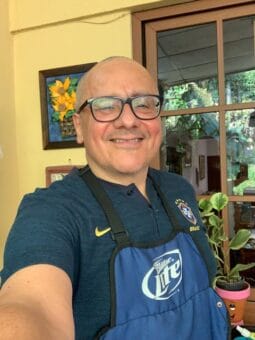 Together with employees of the company where I work and other managers, we are introducing policies offering economic support and making it easier for employees to work remotely to secure their jobs. I am committed to dealing with my team as best I can and being understanding about their lower productivity.
With a number of experts in different fields we share experiences, study the crisis, economic models, market development and politics, aware of the opportunity this is offering to learn new things and find innovative ideas to face the future.
Without realizing it, the days pass quickly, and a feeling of peace often floods my soul. I continue to worry about the country's health situation, its precarious democratic situation and the economy but I feel an ever-increasing strength to continue fighting for the values in which I believe, despite the fact that the storm is raging outside.
Rolando, El Salvador (received by Gustavo E. Clariá)