"This experience for families from different countries lasts for just over 3 weeks." Julian said.  "During this period, surrounded by an abundance of nature, there are both work and formation activities, experiences are shared, with the aim to strengthen family unity in order to be more able to respond to the challenges of today's world. The moments of human and spiritual formation, both personal and as a couple, alternate with activities that take place together. You live a dynamic of mutual collaboration and exchange each day, taking turns to dedicate time to activities or the home. This is something that many do not usually do in daily life and it is "a revolution" for different participants".
"It was a wonderful experience, because we learned that we can live like the Holy Family of Nazareth, giving time to work, reflection, recreation and dedicating space to ourselves as a couple," said Aureliana, during a meeting with other families who gathered at her home to hear what they had lived.
"We received a gift for which we believe that God has been preparing us for a long time. When we heard about this possibility, we thought that we would have difficulty adapting and that it would be difficult for our children to come with us. They are already grown up and most of them have their commitments and the youngest was not convinced at the idea of accompanying us. But obviously God wanted us to go, we said yes, and He did the rest."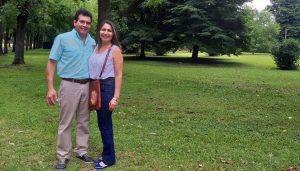 She went on to say that everything was guided by Providence right from the beginning, as a few days before the trip she had to undergo emergency surgery, which almost put an end to their plans. "But I was so calm and the doctor who could have told me to suspend everything, said to take a few days rest and then everything would be fine, and I could travel. And that is what happened, we left, and I was so well that I felt like I hadn't had any problems before!"
Julián agreed that the journey was not easy, but it was worth it to have taken the step of leaving.    "I had never experienced anything like it" – he said "I was so impressed with the people, the way they looked after us, with  the other couples we met and made friends with during that time and the space we had left to do everything. Normally, because of work, children and so many commitments, we are inundated with worries and lack of time and instead everything was possible there. We would like to try to live like this now that we have returned home and into our daily reality."
Looking at each other differently.
Aureliana and Julián said that they had gone through a lot of trials in their years of marriage, some of them very hard, but they had overcome them. However, they admitted that often their time was dedicated to the urgencies of everyday life, giving attention to the children, work or anything else they prioritized as a defense mechanism, rather than talking about their couple problems, the things they cared about, what they liked or did not like. "To be able to do it at the Loreto school, was a great novelty and a blessing for us."
They told of the incredible experience of being in contact with other families and sharing their different realities. There were couples who had been together for years and even one who was on their honeymoon. "They all had so much to share, to teach, that we felt really satisfied and blessed to be with them."
They said they came back with an extra CHIP (component). "Thank God, over the years our work has given us a home, a beautiful family and a small business that we now all run together. But we realized that there are many things that we should do as a couple and one of them is to make better use of our time, devoting it to what is really important and has priority. We try to support other families so that they too can feel what we feel now," says Julian.
Aureliana said that as soon as they got home, they made an important decision. "We brought our company's staff together and reduced working hours. When we communicated the news of an earlier finish, we recommended using that extra time at their disposal to be with their families, to play with their children, to share time with their partners, to make plans together, to talk. We believe that in this way we can work together so that other families can live this experience."
"As soon as we returned there were difficulties due to a small quarrel between two of our children. Maybe in other times we would have imposed a punishment or we would have tried to solve everything by screaming. This time we asked them to pray together. After that moment they hugged each other and got on with their stuff. Now at different times one of us calls the others to pray.  It's a new way of seeing and living life," she said.
Julian concluded "In moments of difficulty in our relationship as a couple, as parents, or even at work, we have learned to recognize the suffering of Jesus Forsaken of which I was able to deepen at the Loreto School. Now I recognize HIM, and seeing things differently fulfills my life. Everything makes sense, our family makes sense, just like everything we live and believe will make us better in the future."